BLOG: Annie Keir Lamont and Emergence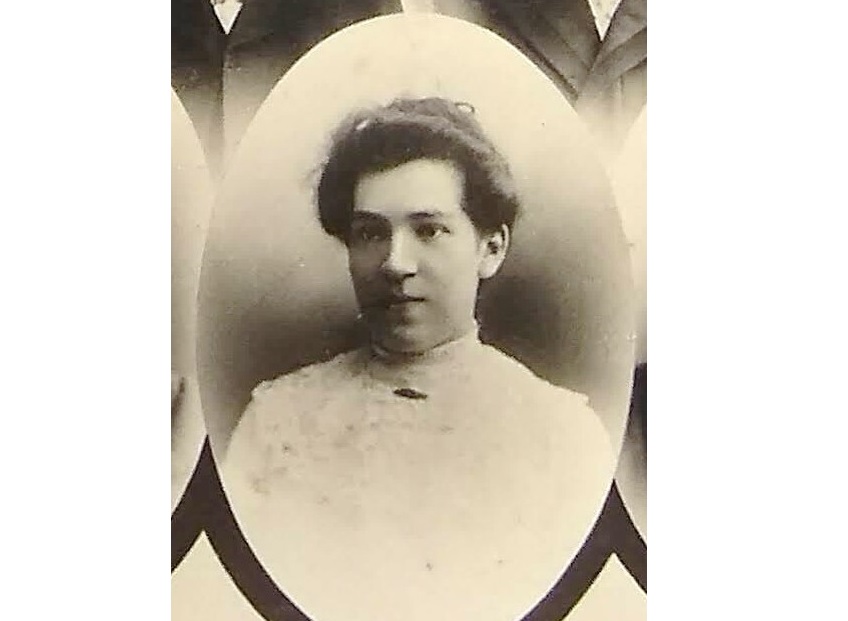 Ruaraidh Wishart is an Archivist at Abertay University. He is part of the Abertay 25 project, delving into more than a century worth of history. 
As I write this, I'm looking out my window at a sunny street, with plenty of folks walking by, and reflecting on the words of one of our amazing former students that I had the honour to give a short talk about before the crisis hit. At the time we had no indication of the lockdown that would hit us two weeks later, but in hindsight her words fortuitously gave me something positive to hang on to in the next few months. It seems like now is a good time to think about them again, as she wrote with hope about emerging from darkness.
Annie Keir Lamont studied magnetism and electricity, and telegraphy and telephony with us in 1903/04 before going onto a career in the General Post Office and becoming a local politician after the First World War.
She was also a published poet. Some of her poems display a deep compassion for the people she observed and the injustices they faced. She reflected on great achievements, like the construction of the Panama Canal, but also wondered about the human costs. More generally, she questioned how much hope there was for the poor in the world –
What chance have WE in our sordid lives
To feel what it is to live?
What know WE of the boundless joys
This changing world can give?
…
Our fate is bound with the fetters grim
Of a dull, relentless care;
Seek not for joy within our souls,
Ye will not find it there. - "
The Cry of the Slums" by Annie K Lamont
That poem, written before the First World War, concisely displays her insight into the hopelessness of poverty. After the War she became a political activist, becoming a member of the Union of Post Office Workers, and the Dundee branch of the Labour Party.
Her political work was aimed at trying to fight the hopelessness in that poem. She fundraised for the Blairgowrie Marfield Holiday Home for Dundee Children, aimed at providing holidays, outdoor exercise and nutrition for needy children in Dundee. She was a Labour Party candidate in the local election of 1924, standing on a ticket of improving social housing and public health.
Even though she was unsuccessful in that election, she became a well-respected figure in the male-dominated world of Dundee politics. As a member of the Dundee Parliament debating society (modelled on the Westminster parliament), she became its first ever female Leader of the Opposition in 1925. If she had been elected to the Dundee City Council, she would have been its first ever female councillor.
Tragically, she would not gain that role later as she died in 1926. Her legacy was to pave the way for local female politicians after her, like Lily Miller (Dundee City Council's first female councillor in 1935) and Florence Horsbrugh (Dundee's first MP in 1931).
She also left a legacy specifically for us - an amazing letter addressed specifically to us here in the 21st century. It was written for the Dundee General Post Office's time capsule in 1921 and was included with photographs, newspaper cuttings, and other letters from the great and the good of Dundee, like the Lord Provost. When the capsule was opened as per instructions in August 2014 it was Annie's letter that generated the most excitement and attention.
She told us about life as a telegraphist in 1921, advances in technology, and wage discrimination against women telegraphists. She expressed her office's general dislike of Churchill as Dundee's MP, and a hope that by the 21st century there would have been a female Prime Minister. She predicted other things – that telegraphy would be replaced by something else remarkable and unimaginable as a means of communication, and amazingly that despite the carnage of the First World War there would soon be another, "ghastlier Armageddon". We know now that tragically there was.
But to me, the most amazing thing about her letter is how hopeful she was despite the circumstances of the recent past, and everything she feared for the future. And reading the final lines of her letter now, I think there is much we can relate to –
 …I wonder if the Millenium has really come in your day, if happiness and peace has come at last to the ravished nations of the world, or whether you too are straining tired eyes towards the future and saying, 'what next?' because it seems to me that the 'progress' of this civilisation is no progress at all while we devote all the gifts of science to slay our fellow creature – and that no permanent good can ever be achieved if we forget the Divine in man. But surely the world will learn its lesson one day – the great lesson that the things of this world are naught, while the things of the Spirit are everlasting.
Let us hope that Browning's beautiful world will come true and that we will 'Emerge one day'.
'If I plunge into a dark tremendous sea of cloud,
It is but for a time,
I press God's lamp close to my breast.
Its splendour, soon or late, will pierce the gloom,
I shall emerge one day'
We are all emerging out of a dark time in our history, but I imagine that our graduates this year are the ones looking most to the future beyond, and saying 'what next?'.
There will certainly be more change than ever in the next few years. That can be scary and challenging, but the great thing about change is that it can also bring a lot of opportunities, some of them unexpected. Our graduates, with all of their skills, knowledge, and creativity, are now emerging with the brightest lamps, and are in a good place to take advantage of those opportunities.
I think the message that our graduates can take from our amazing alumnus, Annie K Lamont, is to have hope now for a beautiful world to come. It will 'emerge one day'.