Rebecca to take on Women in STEMM Antarctic voyage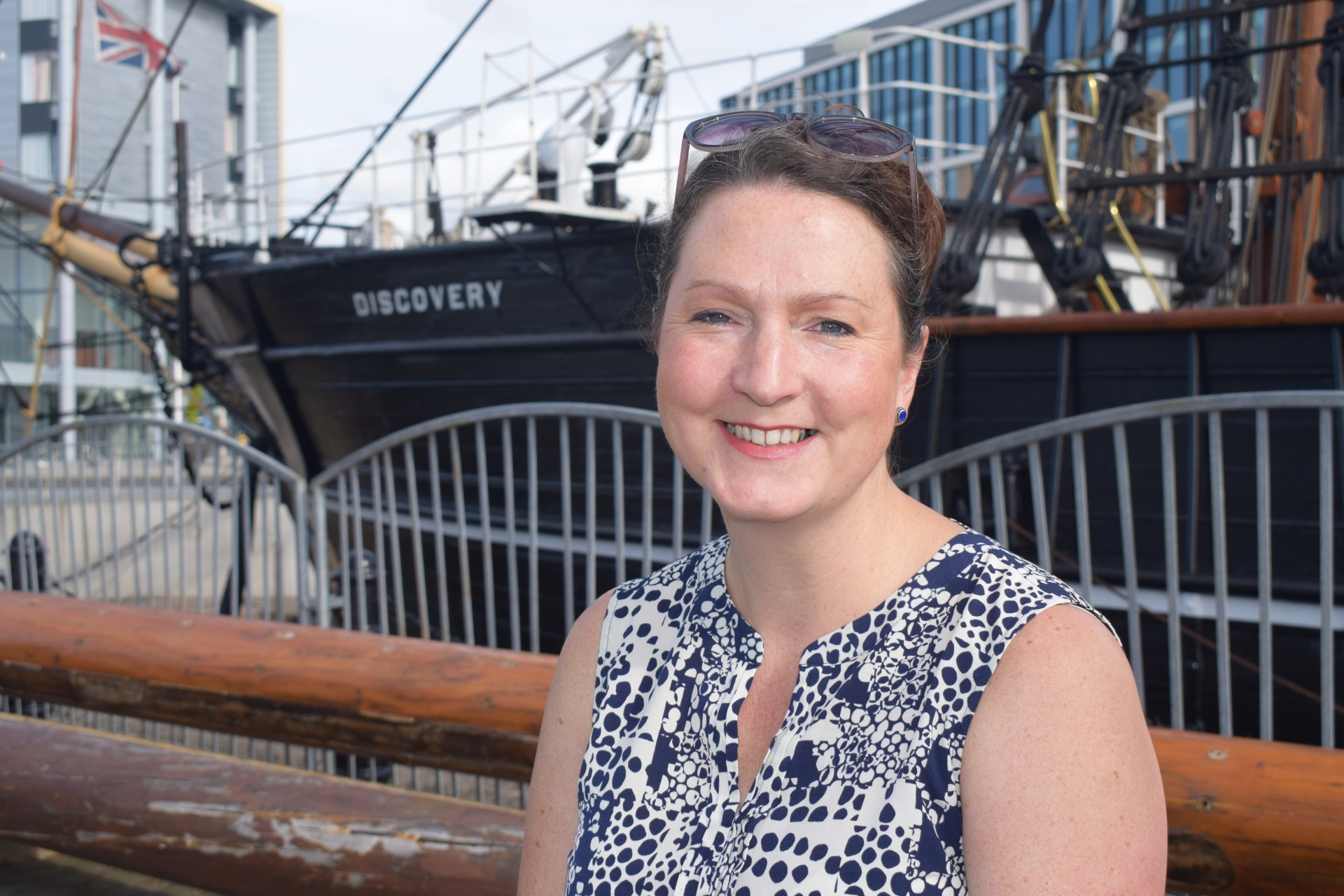 An Abertay University scientist will follow in the footsteps of the famous 1901 Discovery Expedition to the Antarctic after being selected for the prestigious international Homeward Bound initiative.
Dr Rebecca Wade (above), a Senior Lecturer in the Division of Engineering and Food Science at Abertay, is among 80 participants in the global 12-month leadership initiative for women with a background in Science, Technology, Engineering, Mathematics and Medicine.
It aims to equip a 1000-strong collaboration of women with the skills to demonstrate a new model of leadership, to create better outcomes for our planet.
The programme includes online learning to increase leadership capacity, strategic capability, visibility and collaboration and culminates in a life-changing voyage to Antarctica, at the end of 2020.
Selectors noted that Dr Wade's expertise in the area of human-environment interactions and her potential to lead and enact change made her a natural choice for the highly sought-after leadership programme.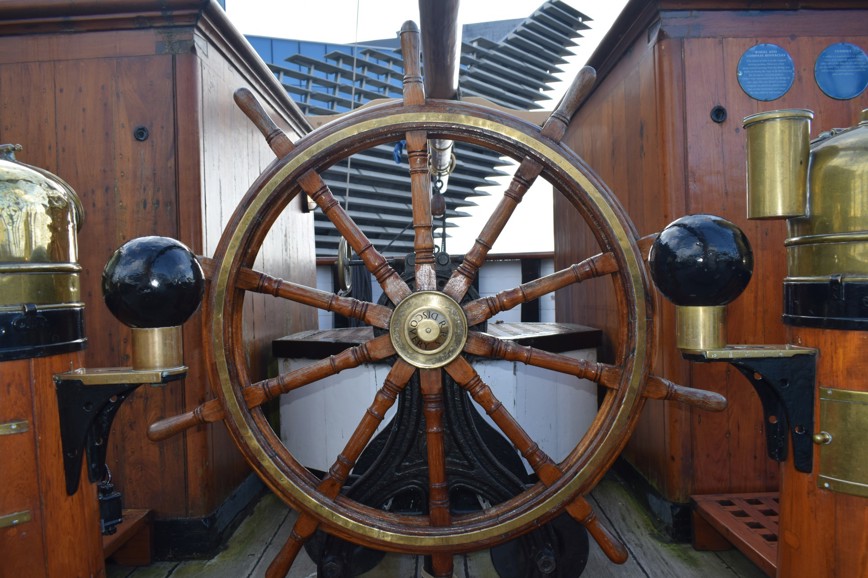 A ship's wheel aboard the RRS Discovery in Dundee
The expedition will take Dr Wade in the footsteps of Royal Navy Officer Robert Falcon Scott, polar explorer Sir Ernest Shackleton and Geologist HT Ferrar, more than 100 years on from their famous Discovery Expedition to the Antarctic in 1901.
She said: "There is a global climate emergency - the science is clear - and we need to act together now to make a transformative change.
"My research and collaborations over two decades have focused on sustainable landscape and water management in cities and rural areas.
"By working together across disciplines we have been able to implement solutions that work for people and nature, for society and economy, these solutions can help us adapt to a changing climate.
"I'm passionate about supporting women in STEMM and about working towards a healthier planet and a more sustainable future. Homeward Bound tackles these global issues head-on and I feel really honoured to be selected for this prestigious programme.
"I've been teaching engineering and environment students at Abertay for 17 years, I'm a STEM Ambassador and I regularly visit local schools to inspire young people to take up these subjects. I'm determined to help women and men, from all areas of industry and society, work together effectively to deliver sustainable and healthy places for the future.
"Coming from Dundee, I've been immersed in the history of the Discovery Expedition my whole life. Now I have the chance to live out a small piece of that incredible story, to travel with exceptional women in STEMM from all over the world, it is a hugely exciting and humbling opportunity."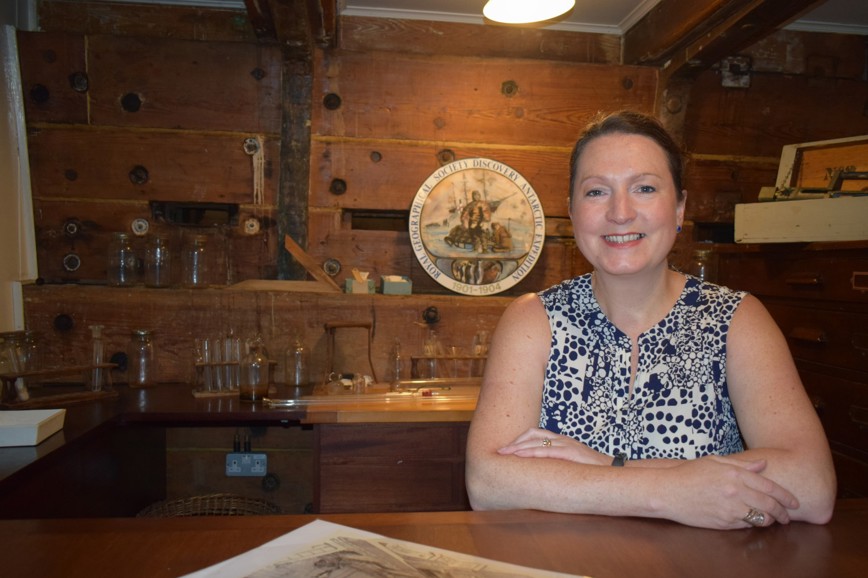 Dr Wade aboard the RRS Discovery
Research repeatedly shows that while women demonstrate great integrity and a legacy mindset when it comes to leadership, decision-making and the creation of collaborative and effective teams, they are overwhelmingly under-represented in the traditionally male-dominated professions.
Founded in 2016, the programme was literally a dream of Australian leadership expert Fabian Dattner, who believed the world needed a programme to unlock the leadership potential of outstanding women in STEMM, to upskill and support them to lead, influence and contribute to decision-making about the future of our planet.
"The aim of Homeward Bound has always been to identify and foster outstanding leadership potential in STEMM and Rebecca is exactly the kind of person I had in mind when I dreamt of this programme," Fabian said.
"It is no accident that we end up in Antarctica, as it is part of the vision. It is where we can see the impact of our crisis of leadership and inaction first-hand.
"It is sensitive and challenging, awe-inspiring and motivating, and I can think of no more fitting experience for a group of leaders."
This year, Homeward Bound welcomes 80 participants into its fifth programme, encompassing more than 25 nationalities and a hugely diverse representation of STEMM fields.
Homeward Bound is now nearly halfway towards achieving its vision of creating a global collaboration of 1000 women leaders with STEMM backgrounds.