BLOG: World War I: The heroes of Abertay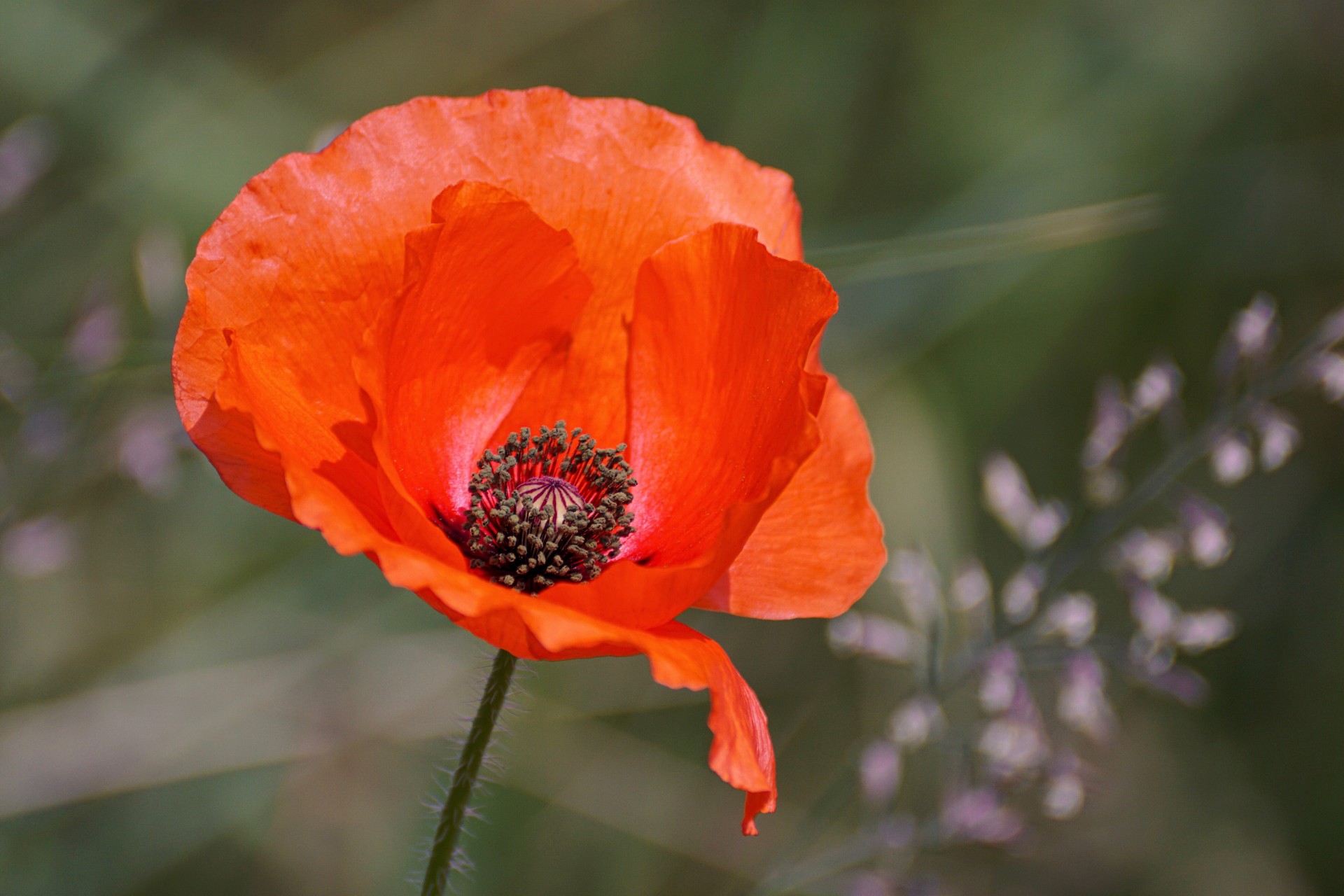 Archivist Ruaraidh Wishart has been looking back at how World War I affected Abertay, or Dundee Technical College as it was then known, and the people in it as part of the National Lottery Heritage funded Abertay 25 project.
He has written this blog post on his findings. 
11 November this year will mark 100 years after the first Armistice Day commemorations were held.
The services held on that day established many of the traditions and rituals in our country of remembering those that fell in battle and the sacrifices that they made in defending the UK and the Commonwealth. Part of that process was collecting and recording the names of people in communities that had been killed in action or died of wounds as a result of the conflict.
When I first started work here I was surprised that such a thing hadn't been done for Abertay University, since the surviving student registers for Dundee Technical College and School of Art showed that so many men and women from Dundee and the surrounding area before and during the conflict had been educated by the institution. Many of these people would have been affected by the War in some way, and sadly, some of the men would have been among the 4000 Dundonians that were dead by 11 November 1918.
The Abertay 25 project has provided an opportunity to look into this further and potentially compile a Roll of Honour. Abertay 25 is a Heritage Lottery funded project that is exploring the history of the university through 25 people and innovations associated with it and its predecessor institutions. With the help of volunteers from the Lochee Family History Group, and the Great War Dundee website, it has already been possible to gather the names of some people associated with the University's predecessor, the Dundee Technical College, that were killed during the First World War and find out more information about them. Some of these are below.
Sydney Henry Kirby died at Gallipoli on 19 December 1915. Before the War he stayed with his aunt in Dundee after the death of his parents, and attended Harris Academy before serving an apprenticeship as an engineer at Blackness Foundry. During his apprenticeship he attended the Dundee Technical College and School of Art from 1907-1912 gaining a First Class Mechanical Engineers Certificate and winning the Armistead Prize in his year. He enlisted in the Royal Engineers on the outbreak of War and later gained a commission as a 2nd Lieutenant in the 10th (Service) Battalion, attached to the 1/5th Highland Light Infantry at the time of his death at the age of 25. In 1916 his Aunt donated £100 to establish a prize and memorial medal for the best engineering students following Sydney's course of study. Records show the prize was awarded from 1917 to 1974.

David Bell Strathern attended Morgan Academy before taking up an engineering apprenticeship and enrolling for Mechanical Engineering courses at the Dundee Technical College and School of Art in 1912. His student record notes he interrupted his studies to enlist in the Royal Naval Division in November 1914. He was promoted to leading-seaman and afterwards appointed head scout for the Collingwood Battalion. He was killed on 4 June 1915 at Gallipoli aged 19.

Robert Aiken attended Hill Street Public School in Dundee before becoming a Tenter and enrolling at the Dundee Technical College and School of Art. He studied Jute Weaving there in 1914-16 and gained a 1st Class City and Guilds Certificate. He later joined the Royal Scots Fusiliers and was reported missing in France on 30 July 1916, later presumed killed at the age of 25. He has no known grave but his name is recorded on the Thiepval Memorial which is mostly associated with the Somme offensive of 1916.

Thomas Anderson Blackwood's student record shows he attended Harris Academy, before enrolling to study Mechanical Engineering at the Dundee Technical College and School of Art attaining 1st Class Certificates in all but one of his subjects. Newspaper articles also state he served his apprenticeship as an engineer at Ward Foundry (James Carmichael & Co), Dundee, later becoming a Draughtsman at Messrs Vickers in Barrow-in-Furness, and then an Engineer on SS Media where he was serving when War broke out. He was gazetted Engineer Sub-Lieutenant on 8 December 1914 and served on HMS Caribbean patrolling the North Sea and Atlantic before being transferred to HMS Fauvette in the Mediterranean. He saw service at Gallipoli, Salonika and the Adriatic, but on 9 March 1916 whilst his ship was sailing back to London it struck two mines off North Foreland on the South East Coast of England and sank with the loss of 14 lives, including Thomas Anderson Blackwood, aged 25.

The Great War Dundee site records very little about Gordon McLeish, a highly successful student here. It notes he was in the Royal Air Force assigned to the 51st Training Depot Station in Shotwick at the time of his death, but his student record notes that after education at Harris Academy, he enrolled here to study Electrical Engineering in 1909. He undertook a course of study that included Maths, Machine Sketching, Engineering Geometry and Drawing, Electricity, Chemistry, Mechanics and Steam. He won the Armistead Prize 3 times, also winning the Armistead Medal in 1914 after completing his last course.
He wrote a letter to the Principal in July 1917 that has survived in the archive collections, requesting a reference and detailing what he did after qualifying. In August 1914, he joined the Scottish Horse, but in 1915 he was transferred to Elswick Ordnance Works in Newcastle to work in munitions. For the next 2 years he served as a plant electrician gaining a good knowledge of plant machinery and also high calibre naval and military guns. He wrote that he wanted a change and would like to apply for a full certificate in Mechanical and Electrical Engineering along with requesting the reference so that he could apply to be a sub-engineer in the Navy and get into active duty. A note in his student record shows he was given the full certificate in October 1917, but his plan to join the Navy clearly didn't work out.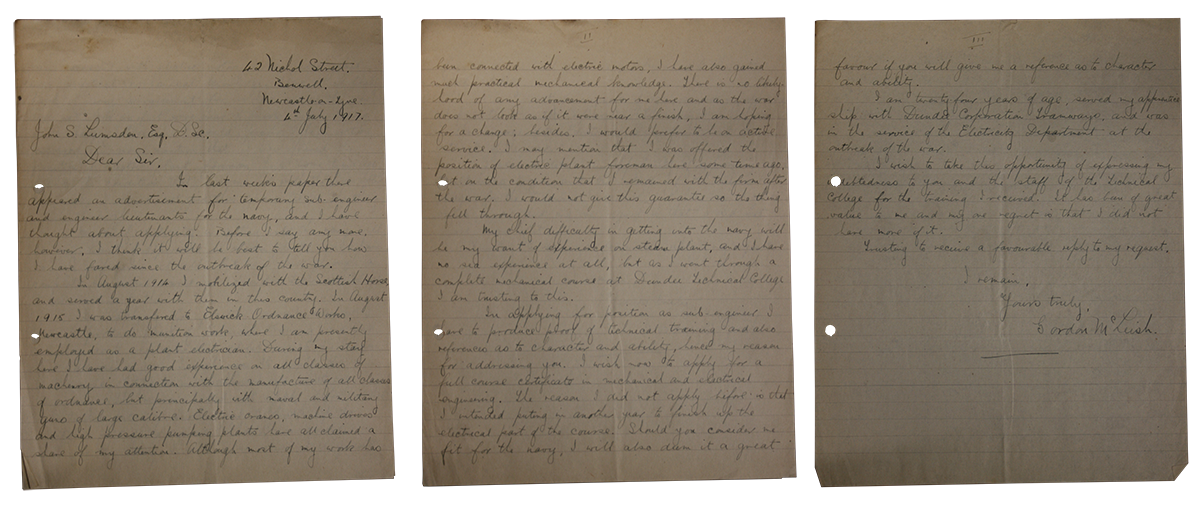 ABOVE: A letter from Gordon McLeish to John S Lumsden
See a larger version of the letter here.
He was commissioned as a 2nd Lieutenant in the RAF sometime after October 1917, but died on 31 July 1918 when his aircraft, a Sopwith Camel, crashed following a flight test.
It is also worth remembering that many other people served and returned, and it has been possible to identify some other individuals from the College that served during the War from letters like Gordon McLeish's that were sent to staff here.
One such person was Robert Douglas Archibald. He was appointed head of the Electrical Engineering Department at the Dundee Technical College and School of Art in July 1909. He joined the Royal Garrison Artillery in 1914 and was appointed First Lieutenant at Spiershill Fort, Tayport, in May 1916, at which point he wrote to the College informing it of his increase in salary. He did this because the College was making up the shortfall in salary that he suffered as a result of joining up. He later rose to the rank of Captain and was posted to France, serving at the Battle of the Somme. On his retiral from the Artillery he returned to teach at the College until 1923 when he took up a post as Senior Lecturer and Head of Electrical Engineering at the Royal Naval Engineering College, publishing a book on Polyphase Induction Motors in 1936. He died after a short period of retirement in August 1941.
Other letters from servicemen in the collection include ones from James Ireland, and John B Roger. It has not been possible to trace them in student records or on the Great War Dundee site, so it may be that they were former members of staff. Another person uncovered by the Abertay 25 project is David Reid Tait, who studied construction at the College c. 1904, before going onto prospect for phosphates on Christmas Island and Henderson Island and then joining up to serve in the First World War. He returned to Dundee afterwards and ran a pub for the rest of his life.
Work will continue in researching them, and tracing other names connected with the University and the First and Second World Wars in order to compile a roll of honour that acknowledges the service and sacrifice of those that served during these conflicts.
With thanks to Great War Dundee.