Students trawl archives in cold case probe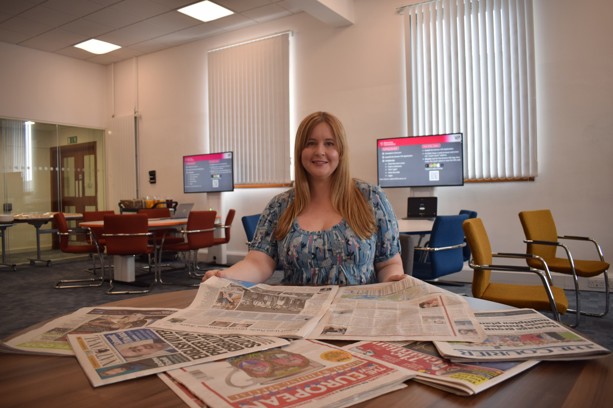 Students from Abertay University will scour press articles from down the decades as part of a live Police Scotland probe into nearly 30 cold cases across the country.
The project, part of National Missing Persons Week, will see a team of more than 20 Psychology, Criminology and Forensic Sciences students focus on Scottish newspaper cuttings relating to cases of unidentified bodies and body parts, which have never been matched to a missing person or victim.
Looking through local, national and regional papers for hidden details, the work will take in cases from across Scotland.
Dating back to 1971 - long before the internet, complex IT systems and even DNA sampling were as widely available as they are now - the catalogue includes remains found in city, town and rural locations, as well as at sea.
News archives can be a reliable and accessible way of identifying and matching up disparate pieces of information and comparing these with other records.
The case information provided by Police Scotland does not take in all current cases of unidentified remains, but instead focuses on those where this type of archive work can be useful.
It is hoped the project will highlight possible links for further investigation, potentially leading on to forensic tests which technological advances have only recently made possible.
The research team, a mix of undergraduate and masters students, has been given until August 31 to complete the task, gaining valuable real-world experience as part of their degrees.
Dr Penny Woolnough, Senior Lecturer in Forensic Psychology and Associate Director of the Scottish Institute for Policing Research, is leading the project, having last year organised the 3rd International Conference on Missing Children and Adults at Abertay.
She said: "This is a fantastic operation for our students to be involved, not only because it gives them industry experience but there's also a real chance they may turn up some useful information.
"People go missing for a whole range of reasons, including mental health issues, family or financial problems and even foul play, so there are a huge number of angles for the team to look at."
Abertay MSc Psychology student Sarah Webb (pictured above) is co-organising the trawl.
She said: "As soon as I heard about the opportunity to assist Police Scotland in finding missing loved ones I felt compelled to help with this investigation.
"I hope that the work we are conducting ends up providing some closure to families or at least reassurance that even after 47 years people do care and are still looking."
Chief Inspector Lex Baillie of Police Scotland said: "Police Scotland has a long-standing and productive working relationship with higher education research in Scotland. 
"Dr Woolnough's department at Abertay has been a key partner in missing person research for more than 10 years and this project draws on proven expertise in the field.
"It also demonstrates the commitment of Police Scotland to missing person investigations and bring resolution to families and friends of those who are still missing – we do not close a case until each person is accounted for, no matter how long that takes."