Graduation 2018: Hannah balances motherhood with studies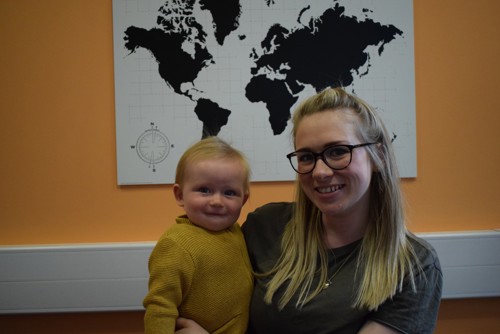 Abertay University student Hannah Manville will graduate this year having taken time out of her studies to start a family.
The BSc (Hons) Psychology student from Birmingham completed the last phase of her degree at Abertay in June, having returned to University in January after a year long break to have son, Freddie.
Taking full advantage of Abertay's flexible approach, the 26-year-old was able to pick up exactly where she left off, quickly settling in with new classmates and completing her dissertation looking at the effects of makeup on professionalism.
She said the support from both academics and support services had given her the confidence to come back.
"I think my last term was the best I've had, and in terms of grades it was probably the best I've done," said Hannah.
"I felt more motivated because I had Freddie and I thought, 'if I'm going to spend all this time away from him I'm going to make it count', so I put in the effort to make sure it wasn't wasted."
Hannah's partner Frankie, 29, from Dundee, has just completed a Masters degree and the pair, who met while travelling in Australia, are now planning to move to Birmingham this summer.
Hannah said: "Abertay was really helpful when it came to getting help with fees for childcare and everyone in Student Services was amazing with sorting that out for me – it was one of the things we were worrying about.
"My mum and dad were great too - my dad came up every week for months to give me some help.
"And my academic supervisor, Janet McLean, and also my lecturer Lynn Wright, both gave me a lot of support.
"I was always in touch while I was off and had a meeting to touch base before I came back to discuss my dissertation and the modules I would be doing.
"On the days when I hadn't slept much, Janet was really supportive and would give me a bit of a pep talk.
"It's just really nice to speak to people who understand where you are coming from."
Hannah now plans to take on a Masters with a view to working as an Occupational Psychologist in years to come.
To study Psychology at Abertay visit https://www.abertay.ac.uk/course-search/undergraduate/psychology/