Consumer testing on the menu for dissertation project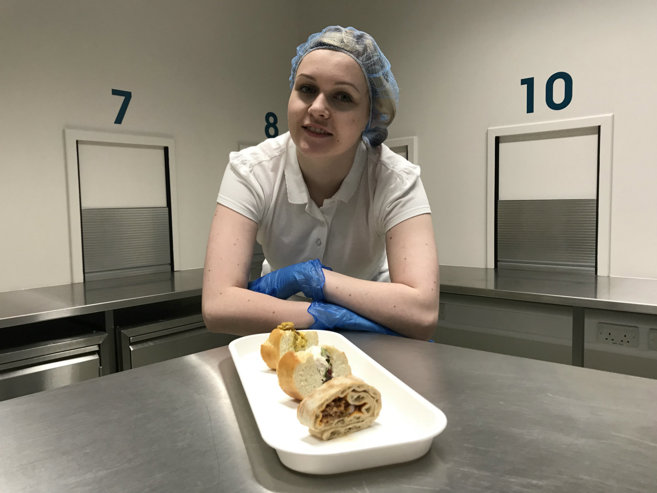 A food science student from Fife is carrying out consumer testing in Abertay University's new £3.5m labs as part of a project to revamp the menu at the campus coffee shop in Dundee.
Claire Wilkie, from Methil, is gathering feedback based on sampling sessions in the Consumer Experience Laboratory, the only industry-standard facility of its type in a Scottish university.
Under climate-controlled conditions, participants are handed samples through a presentation hatch and asked to taste a variety of menu items from the Aroma café, such as wraps and toasties, before scoring them on appearance, aroma, flavour, texture, aftertaste and overall impression.
After gaining feedback, Claire will devise improvements and alterations to the menu items before carrying out another round of consumer testing on a revised offering.
The research forms part of the 22-year-old's fourth year dissertation project, going towards her degree in BSc (Hons) Food and Consumer Sciences.
She said: "Through this type of testing we hope to identify what people enjoy from the menu and products which could perhaps be changed or replaced.
"It's fantastic to have such a new, modern and well-equipped facility as a venue for the consumer testing and everything is exactly as it would be when developing a new product for business."
The University runs Food Innovation @ Abertay, which provides innovation support to food and drink businesses across the UK, particularly SMEs.
Offering access to specialist staff, equipment and facilities, the service provides tailored and cost-effective solutions including new product development and product reformulation, consumer and sensory evaluation, food processing and product analysis, extraction of value added ingredients from waste and food hygiene, food, safety and HACCP advice, marketing and consumer research analysis.
Dr Jon Wilkin of the Division of Food and Drink said: "Claire's project is a good example of the kind of services we can offer to businesses at Abertay.
"Pinpointing the strengths and weaknesses of products through reliable consumer feedback is absolutely the best way to ensure food and drink offerings are appealing to the customer."
Abertay catering manager Dave Pointon said: "It is a brilliant resource for us as a commercial operation to have access to the technology and abilities of our food labs.
"Claire's research will have a very real impact on how we make our products and will help provide us with a range of healthy, tasty foods. It has been fascinating to participate in the process."
For more information on studying food and drink at Abertay https://www.abertay.ac.uk/schools/science-engineering-and-technology/division-of-food-and-drink
Picture caption: Claire prepares items for a consumer testing session