Relaxation game at Grad Show Business Breakfast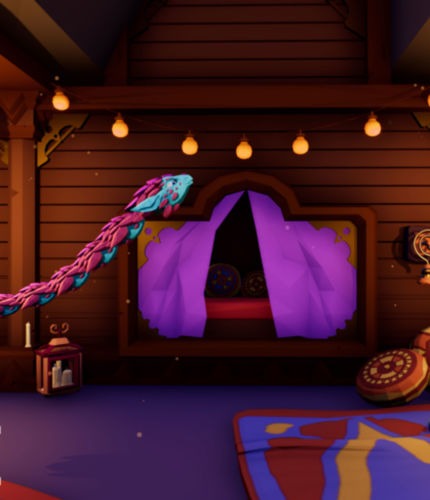 An Abertay University game development studio is aiming for international commercial success with an innovative title that shuns violence in favour of relaxation.
Students from Puny Astronaut will showcase their unique title Glaze at a special Business Breakfast from Dundee and Angus Chamber of Commerce, as part of next week's Abertay Digital Graduate Show.
Focusing on relaxation and play, the game – aimed at children between six and twelve and casual-gaming adults – is a far cry from the often violent titles that have come to dominate UK sales.
Team producer Cian Roche, 25, will present a talk at the Business Breakfast on Tuesday May 9, explaining the collaborative design process that saw a multidisciplinary team of programmers, artists, sound designers, and level designers create the world of Glaze.
The same event will act as a launch for applications to phase two of the Cultural Tourism Fund, which has already assisted local projects including Dundee Museum of Transport.
Cian, a Game Design and Production Management student at Abertay, said: "Glaze is an escape from bullets, explosions, and noise, and acts as a chance to catch your breath – the game is a very undemanding and gentle experience.
"It first started as a prototype last year when we had 10 weeks to develop it as part of Dare to be Digital.
"You fly around a gentle, charming countryside world as a friendly flying dragon and it is designed to lull you into a state of relaxation.
"We have had three-year-olds playing it and 83-year-old grandparents playing it."
Glaze won a £25,000 funding pot after scooping the Channel 4 prize at last year's Dare to be Digital games design competition, run by Abertay.
It has also been showcased at the Perth Museum and Art Gallery, and at the Discovery Science Centre in Dundee.
Since then work on the game has taken off and it is now being developed for Xbox One and PlayStation 4.
"We have been working hard over the last few months and we can't wait to showcase the game and hear what people think," said Cian.
"There's not another game that's like this and it appeals to what we called a 'non-core' gaming audience.
"It's an ambitious project - we are making a very richly detailed game in a very short time for two major consoles.
"We've pushed ourselves to make the most of our skill and talent, and the team have done an incredible job."
With additional funding, Puny Astronaut hope to continue to expand Glaze into next year, with a view to a commercial launch that would see the product retailing for around £15.
Abertay has supported the team by providing dedicated office space, and loaning them computer equipment.
The next round of the Cultural Tourism Fund will open on May 9 with the final closing date for applications the June 14, 2017.
All applications will be evaluated by a panel comprising representatives from Scottish Enterprise and Dundee City Council with applicants notified of the decision by Thursday June 22.
The Abertay Digital Graduate Show runs from May 5-9 featuring the final year work of more than 150 students from the School of Arts, Media and Computer Games.
To book a place on at the Business Breakfast visit http://www.dundeeandanguschamber.co.uk/events/DACC-Business-Breakfast_3191.html
For more information of Abertay Digital Graduate Show visit https://www.abertay.ac.uk/graduateshow/