Amazing line up for Abertay Digital Graduate Show
A special exhibition paying tribute to graduates who changed the games industry is among a host of cultural, artistic and family attractions confirmed for next month's Abertay Digital Graduate Show.
Today the full line-up for the five-day smorgasbord of digital delicacies is confirmed with activities ranging from alumni reunions, to workshops creating 3D paper worlds, and even a Minecraft session using bananas.
In addition to visually stunning artwork, concept games, immersive sound projects and innovative cybersecurity programmes from more than 150 final year students, the show will feature around a dozen additional events for members of the public, schoolchildren and businesses.
Taking place across all five floors of Abertay's Student Centre for the first time, the show has been expanded to celebrate 20 years since the University became the first in the world to offer degrees in computer games.
A special 'Game Changers' exhibition will be one of the highlights of the programme with a selection of former Abertay students recognised for the paths they have forged into the games industry.
The list of those included in the gallery will remain under wraps until the VIP launch night on Friday May 5 and the exhibition will stay in place for several weeks after the show closes on Tuesday May 9.
ADGS curator Clare Brennan said the show would have something for people of all ages.
She added: "Our students are putting the final touches to their ADGS projects and there is a real buzz around campus as we all prepare for our biggest show yet.
"Including the Game Changers exhibition was our way of paying tribute to a small section of the sea of talented graduates who have  gone on to shape the games industry across the world."
For more information visit https://www.abertay.ac.uk/graduateshow/ and read on for a fantastic graduate case study and for the full programme.
CASE STUDY Visually stunning concept art viewed through a cardboard device that turns a mobile phone into a Virtual Reality (VR) headset will be part of Sophie North's Abertay Digital Graduate Show submission.
The digital artist from Mansfield, near Nottingham - who is currently working as art director on a project with Disney - is investigating VR design production pipelines as part of her final year dissertation.
Using Google Cardboard headsets, members of the public attending ADGS will step into an eerie virtual swamp world created from scratch by the 23-year-old.
"It's a swamp scene environment and the story revolves around a scientist who has been looking for a swamp giant," Sophie explained.
"You can put on this cardboard headset, slot in your phone, and be able to see a digital painting all the way round.
"This is something that everyone can access and it's basically turning your mobile into a VR machine.
"My honours project was concept art for VR, so I'm looking into the process of visualising and producing that, and how it fits into the industry pipeline."
When selecting a university, Sophie had a number of unconditional offers but chose Abertay due to its Creative Skillset accreditation and friendly atmosphere at the Open Days she attended.
"In essence my course is a digital arts course, so while there's sometimes a perception that Abertay is focused on games, there are so many skills that you learn for the wider digital industry.
"The great thing about Abertay is that you get to work with other people across so many different departments, so rather than working on your own in isolation you get experience working with programmers, sound guys and developers, meaning you are a lot more practiced in an industry environment by the end of it.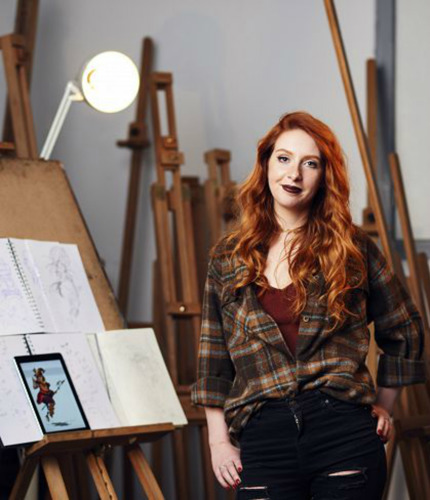 FULL PROGRAMME
Friday 5 May
6pm-9pm: Abertay Digital Graduate Show public opening. Exhibitions, demonstrations and Game Changers Exhibition (No booking required).
Saturday 6 May
12pm-4pm: Abertay Digital Graduate Show open to public
10.30am – 12pm: Free Family Workshop 'Building 3D Paper Worlds' https://www.eventbrite.co.uk/e/freefamily-workshop-building-3d-worldstickets-33460991727
1pm-2.30pm: Free Family Workshop 'Learn to program while playing Minecraft with a banana!' https://www.eventbrite.co.uk/e/freeworkshop-learn-to-program-whileplaying-minecraft-with-a-banana-tickets-33461437059
2pm-5pm: Tours for 'Back to Campus' alumni. To book email alumni@abertay.ac.uk
5pm-8.30pm: 20 Years of Games PechaKucha https://www.eventbrite.co.uk/e/20-years-of-games-powered-by-pecha-kucha-tickets-32986202620
8.30pm-Late: 'Back to Campus' party https://www.eventbrite.co.uk/e/20-years-of-games-poweredby-pecha-kucha-tickets-32986202620
Sunday 7 May
12pm – 4pm: Abertay Digital Graduate Show open to public
10.30am – 12pm: Free Family Workshop 'Making Sound Effects in Games' https://www.eventbrite.co.uk/myevent?eid=33461667749
1pm – 2.30pm: Free Family Workshop 'Stop Frame Animation' https://www.eventbrite.co.uk/publish?crumb=7ed020b-053de73&eid=33461786103
1pm – 2.30pm: Free family Workshop 'Comic Adventure Workshop' https://www.eventbrite.co.uk/e/free-family-workshops-a-comic-adventure-workshop-tickets-33461998739
Monday 8 May
10am-3pm: Abertay Digital Graduate Show open to public
10am – 1pm: Primary School Visits including quick-fire talks and tours. To book email v.collie@abertay.ac.uk
Tuesday 9 May
7.30am-9.30am: ADGS Business Breakfast
10am-3pm: Abertay Digital Graduate Show open to public
1pm – 3pm: Secondary School Visits including quick-fire talks and tours. To book email v.collie@abertay.ac.uk