Student project creates chocolate aimed at tackling PMS and fatigue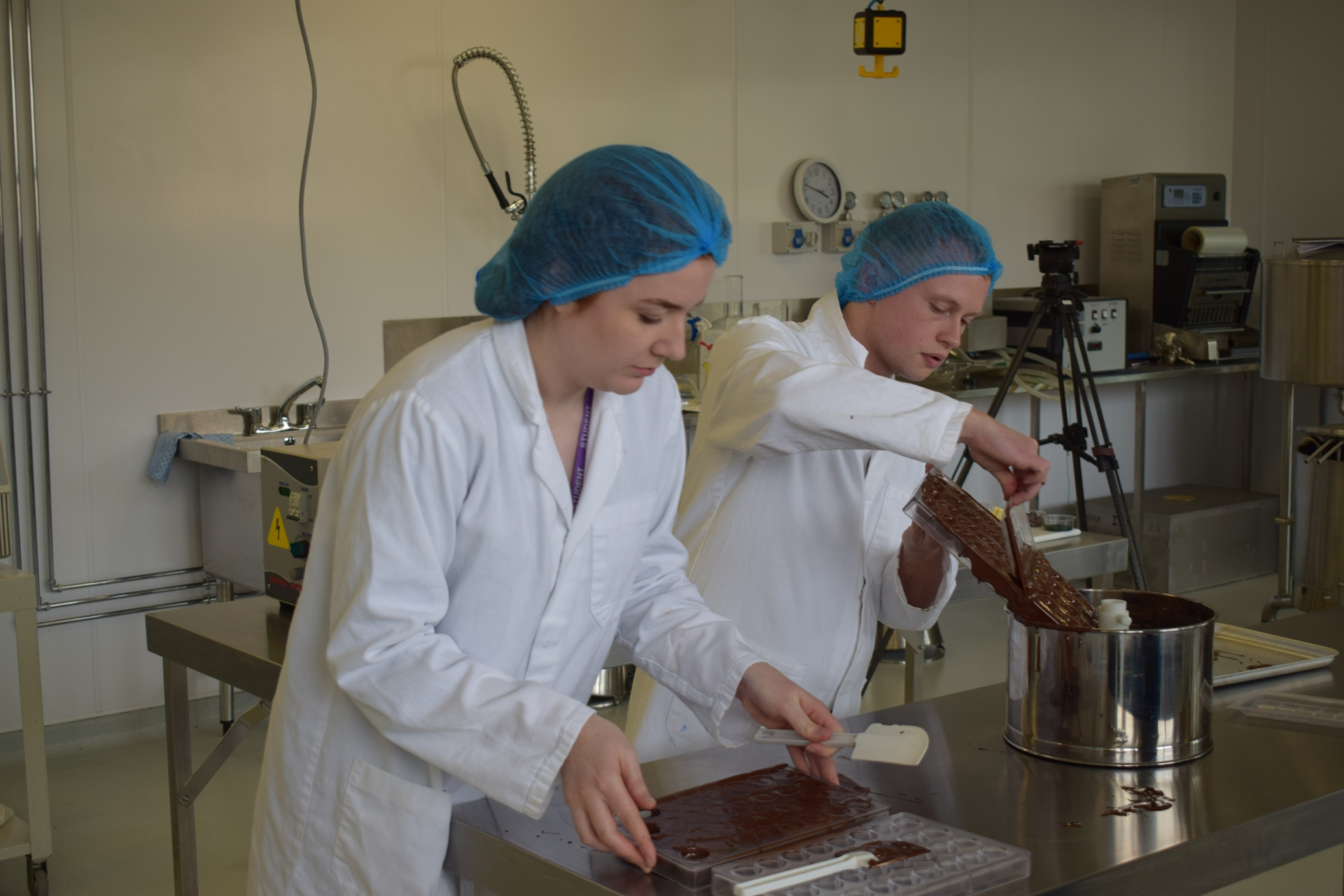 Innovative Food and Consumer Science students at Abertay University have embraced centuries-old remedies to develop a range of health-focussed chocolate bars that target issues such as fatigue and premenstrual syndrome.
Each of the bars in the Cocoa Being range was created with a specific health issue in mind, and the chocolate itself utilises unusual ingredients such as sweet potato and beetroot.
The products were developed by fourth year students Sarah Miles, Katie Beattie, Thomas Macneil and Arlena Birrell (picture below) who set out with the aim of developing healthy chocolate bars.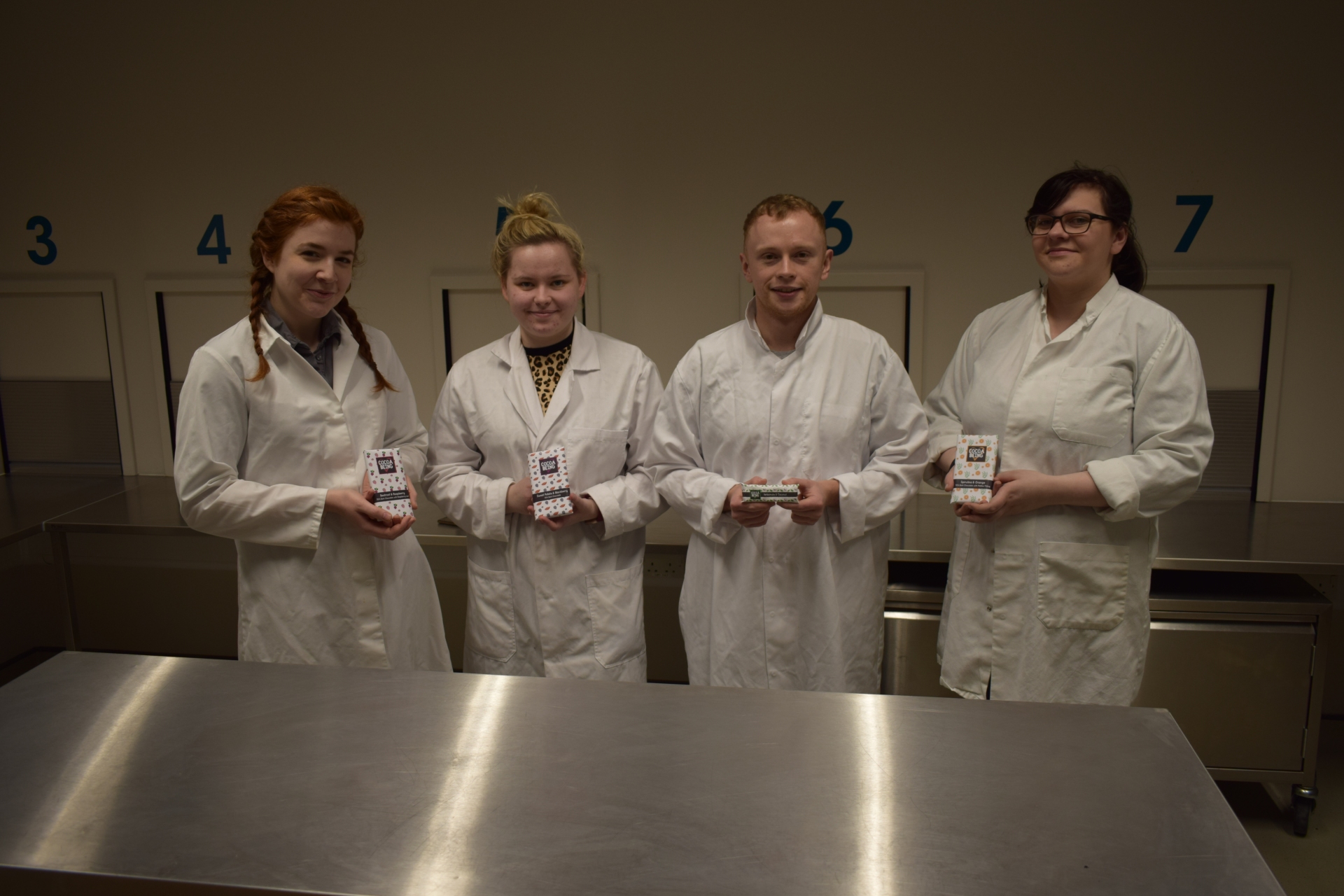 The Cocoa Being range comes in four distinct flavours – Beetroot and Raspberry, Spirulina and Orange, Sweet Potato and Blackberry and Yerba Mate and Coconut.
Sarah Miles was the student behind the Beetroot and Raspberry bar.
The product contains raspberry leaf, a herbal remedy which has been used for centuries as a women's health aid.
She said: "We initially set out to create a range of healthy chocolate bars, but after conducting consumer research we realised that interest in a sweet product that has had elements stripped away to create a 'healthier' option was limited.
"Instead of taking away ingredients we decided to add them instead to create indulgent chocolate that had an added health claim.
"The Beetroot and Raspberry bar, for example, is rich in potassium thanks to the beetroot, and calcium and magnesium from the raspberry leaf. This helps with things like cramps and bloating."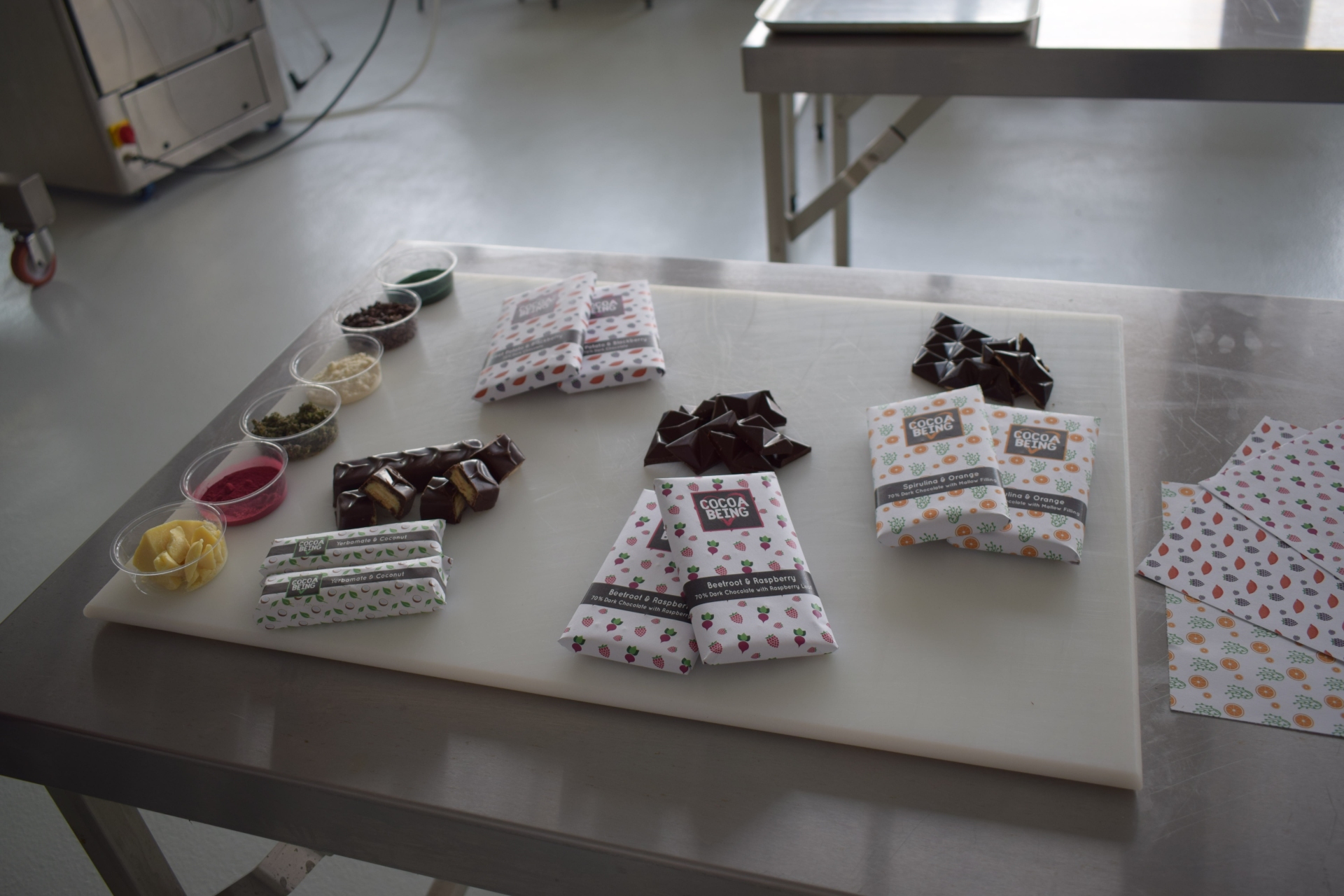 Thomas Macneil created the Yerba Mate and Coconut bar, utilising a caffeine substitute which has become popular with celebrities including Barack Obama and Madonna.
He said: "Yerba Mate isn't an ingredient that everyone will be familiar with, but it's a tea that originates in South America.
"Benefits include mental clarity and alertness. Think of it as being like coffee, but without the negative side effects. It doesn't give you insomnia and you won't get jittery from it.
"It's quite a bitter substance, and it was quite challenging to make it palatable.
"Ultimately Cocoa Being bars are still a treat. We've tried to look at what commercial chocolate bars aren't doing and we've based our range around that."
Dr Jon Wilkin, from Abertay's Division of Food and Drink, said: "The students haven't just created a unique range of products – they were involved with every stage of the process.
"They undertook consumer studies, pitched the product to a panel of academics, worked out whether it would be financially viable and even created the chocolate itself from cocoa nibs, which isn't something a chocolatier would ordinarily do.
"This is an example of the broad range of skills developed and utilised by our food students."
For more information on Abertay's Food and Consumer Science course, visit: https://www.abertay.ac.uk/course-search/undergraduate/food-and-consumer-science/