Higher Education Minister backs InGAME to deliver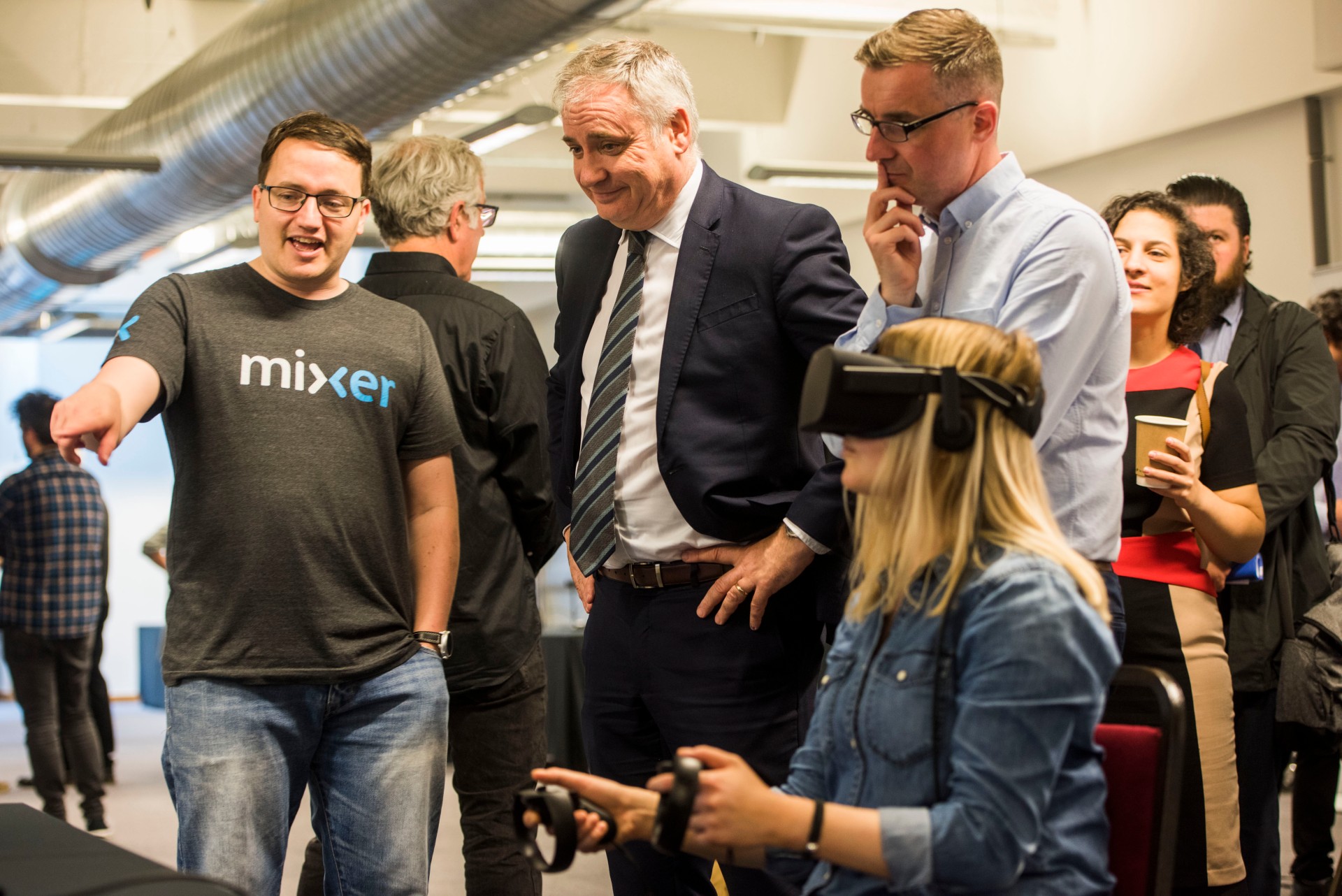 A mix of industry, enterprise and academic collaboration is at the heart of Dundee's success in the videogames sector and can be harnessed to drive growth in the industry across Scotland, the Scottish Government's Minister for Further Education, Higher Education and Science has said.
Richard Lochhead MSP was at the Innovation for Games and Media Enterprise (InGAME) project in Dundee on June 12 to attend an industry taster showcase for videogames companies. 
The event was the first public engagement to be held at the new home of the £11.5m R&D partnership, which is led by Abertay University in collaboration with the universities of Dundee and St Andrews.
InGAME is principally funded by the Arts and Humanities Research Council (AHRC), with an additional £500,000 from the Scottish Funding Council (SFC). 
Games industry partners, including Biome Collective, Ruffian Games and Pocket Sized Hands, showcased their latest projects and the Minister got the chance see the best of local academic research during the event. 
Since launching in 2018, InGAME has recruited six dedicated research and development fellows and is now preparing to launch an R&D voucher scheme available to both games companies and other businesses seeking to use games or gamification.  
The vouchers support proof of concept assessment and rapid prototyping to deliver new products, services and experiences whilst enhancing innovation, sustainability and value-creation within the Dundee games industry.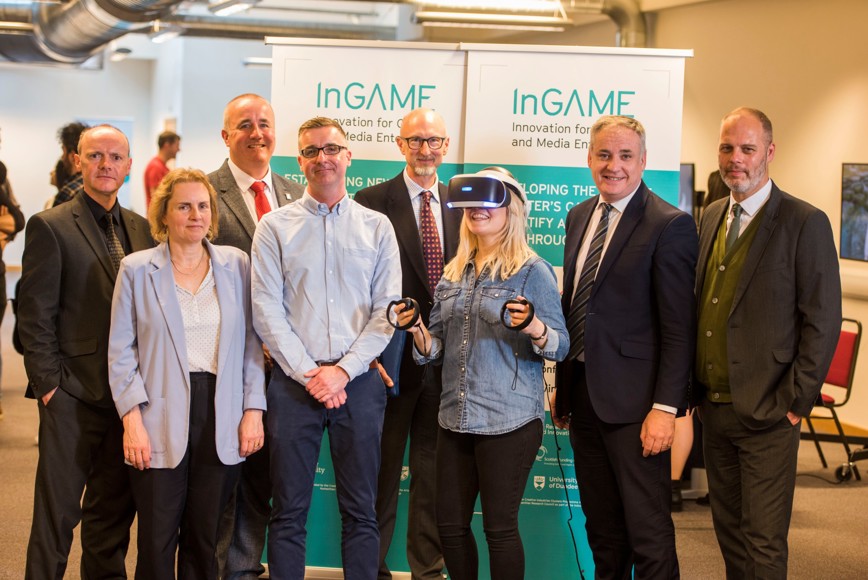 L-R: David Beards, Senior Policy Officer, Scottish Funding Council; Prof Liz Bacon, Vice-Principal, Abertay University; Tom Brown, Dean of Science, University of St Andrews; Sean Taylor, Director of InGAME; Prof Nic Beech, Vice-Principal, University of Dundee; Emelie Edholm of Pocket Sized Hands; Minister for Higher Education Richard Lochhead MSP; Prof Gregor White, Dean of School of Design and Informatics, Abertay University
Mr Lochhead said: "The InGAME project shows how cutting edge research and innovation, supported by the Scottish Government and our partners, is bringing together universities and industry to increase knowledge exchange and drive inclusive growth.
"Creative industries, such as gaming, are making a significant contribution to Scotland's economic growth.
"By acting as a catalyst for innovation, InGAME is well positioned to help boost growth in the sector by assisting scale-ups and inward investment, as well as providing support to start-ups and SMEs.
"There is no doubt that Dundee's videogames industry has benefitted hugely from a unique mix of expertise from local industry, enterprise and academia, and it is fantastic to see that type of collaboration having such a tangible impact."
InGAME is part of the £80m Creative Industries Clusters Programme, led by the Arts and Humanities Research Council (AHRC), with funding coming through the UK Industrial Strategy Challenge Fund.  
InGAME Director Sean Taylor said: "An important part of InGAME is bringing the local industry together at events like this and focusing on how we can work cohesively to maximise the cluster's potential. 
"There's a wealth of knowledge and expertise to be shared across the cluster, and one of our key priorities is to find creative ways of harnessing that and making it work to everyone's advantage." 
Dr Stuart Fancey, SFC Director of Research and Innovation said: "Connecting innovators in Dundee's flourishing videogames cluster with world-leading Scottish research expertise, InGAME will play a vital role supporting growth and enterprise in Scotland's creative industries. 
"It is a fantastic asset for Dundee and Scotland as a whole, and we are delighted to be co-funding it alongside AHRC." 
Dr Paul Meller, Associate Director at the Arts and Humanities Research Council, said: "We are pleased to be funding this ground-breaking project which brings to life the essence of the Creative Industries Clusters programme: collaboration between the UK's renowned creative industries and our world-leading university sector.
"It's great to see the progress the project is making already, supporting the growth and evolution of the games industry in Dundee."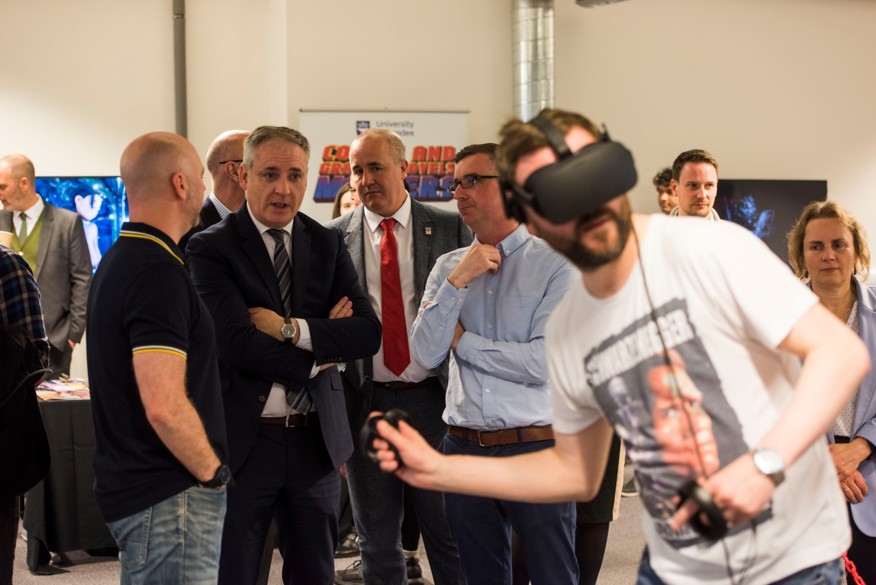 Industry partners for InGAME include 4J Studios, All4Games, BBC, Beano Studios, Biome Collective, DeltaDNA, Microsoft, Outplay Entertainment and Sony Interactive Entertainment Europe, while business and cluster development is supported by Creative Dundee, Creative Scotland, Elevator UK, Interface, Dundee City Council, Knowledge Transfer Network, Scottish Enterprise, TIGA, UK Games Fund, UK Interactive Entertainment and V&A Dundee