Abertay sport scientists guide veteran kickboxer to title success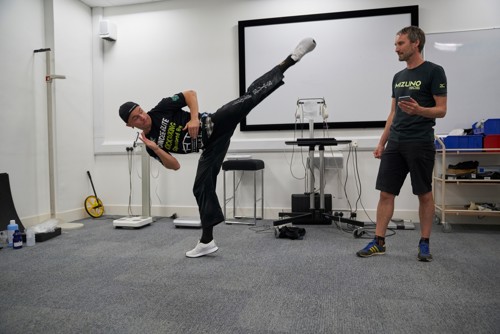 ABOVE: Sean Wanless (left) training with Dr John Babraj
A veteran kickboxer who won his first world title after three years without a competitive fight has credited a unique training program formulated by Abertay University sport scientists for his success.
Sean Wanless effectively gave the sport up in 2015, after years of wear, tear and injuries took their toll on his body.
However, the 36-year-old continued to coach at Dundee Elite Kickboxing Fight School and found himself longing to get back in the ring.  
He said he'd felt motivated by his young students: "Coaching them drove me on. It left me wanting to show them what I could do – they'd not actually been able to see me fight! They inspired me, and I wanted the chance to inspire them."
The Dundonian decided he would chase the one thing that had evaded him during his glittering career – a world title.
He began doing work with Dr John Babraj from Abertay's Division of Sport and Exercise Sciences as he tried to make that lofty goal a reality.
Sean started a high intensity training on a program designed to mimic the workload of a standard kickboxing fight.
Dr Babraj said: "We worked on a one-to-one work to rest ration, with up to twenty seconds of high intensity exercise paired with a rest for the same length of time.
"We wanted to avoid weight gain. Having too much muscle is a bad thing in kickboxing as you try to meet certain weight categories.
"You do want to increase your power though. We worked on that, and we also worked on recovery times.
"In a fight you start and stop, and have to recover in the periods in which you're stopped. Our training looked to mimic this."
Sean added that it had made a huge difference: "The high intensity training was off-the-scale. I wouldn't ever have done this had I not met John.
"This was all new to me and it really helped. I'd come in to train and walk out feeling absolutely exhausted, but I'd be getting to that next level of fitness."
Sean's comeback fight was for the WKC World title in the -75kg men's continuous.
He emerged victorious, winning his first ever world title.
He said: "It was quite intense, but I knew that after all these injuries I was ready to push my body to the limit.
"The training made a world of difference, and ultimately played a huge part in me winning this title.
"I'm now in a position where lots of doors are opening. I have my eye on the world championships, which take place in Niagra next year. I just need to keep my head down and keep fighting. 

"It definitely won't be three years until my next fight!"
For information about Abertay University's sport courses visit: https://www.abertay.ac.uk/schools/social-and-health-sciences/division-of-sport-and-exercise-sciences/