Abertay graduates celebrate success with social media recommendation app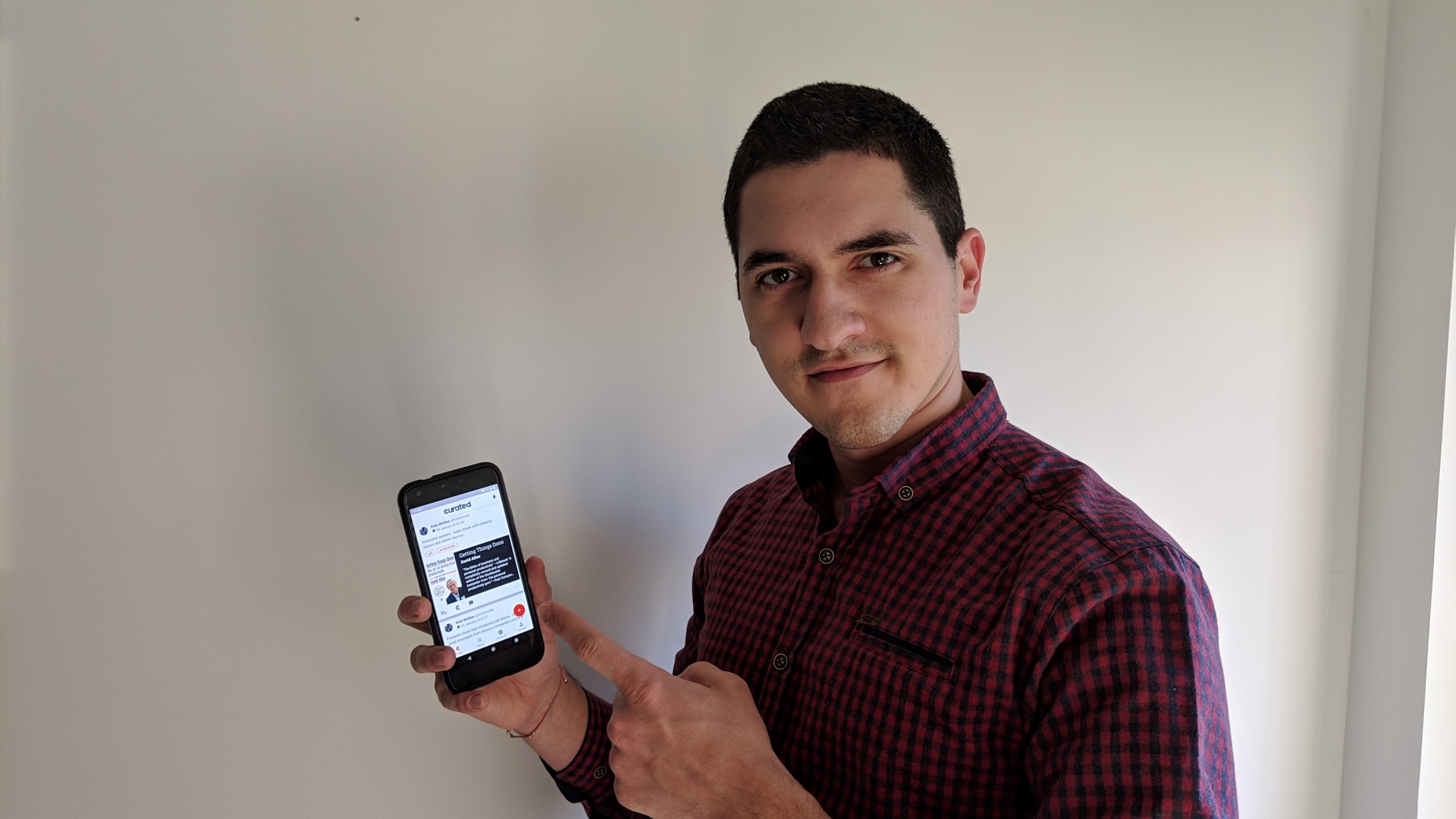 Two Abertay University graduates have celebrated early success, after launching a unique social media service based entirely around podcasts, books, movies and television shows.
Curated is designed to help users discover new content by following people they know, like and respect.
Instead of sharing photos, users post about their favourite media recommendations.
Creators Valentin Hinov and Rory Kelly – who both studied Computer Games Technology at Abertay – came up with the idea after finding it hard to discover quality content online.
Valentin said: "At the moment there's a big push for AI to deliver recommendations based on what you've already seen, and there's definitely value in that.
"However, I also think that what people value most is recommendations from people they trust.
"We talked about creating an app where the only thing you can share is content – avoiding the noise of classic social media and concentrating on connecting people through the media they enjoy."
Curated works by asking users to share their favourite podcasts, books, television shows or articles. It also features a 'discovery' section listing trending content.
"What Abertay gave me was the confidence and encouragement to pursue my passion."
Users are able to follow friends and people with similar tastes, allowing them to discover new content which may appeal to them.
The app is in its testing phase, but has become a semi-permanent fixture in the 'featured' section of the Early Access area in the Google Play store.
This has allowed 27-year-old Valentin and 30-year-old Rory to build up a solid user-base.
Valentin said: "When Google decided to feature us we started picking up dozens of new users each day, which has allowed us to push the app to the next level.
"Our users have been giving us great suggestions for new features and improvements, and it's helping us make Curated the best that it can be.
"One thing we want to add in the future, for example, is a system that suggests new people to follow based on your shared tastes.
"We're also planning to create an iOS version of the app, which has been difficult given that we're such a small team, but we're determined to make it available this year."
Valentin said his time at Abertay helped him develop the skills and ideas he needed to get to where he is now: "What Abertay gave me was the confidence and encouragement to pursue my passion.
"My interest in working on mobile games transitioned to designing and creating more general mobile apps - and I had the support of my tutors all along the way.
For more information about Curated, visit: https://curatedapp.co
To find out more about computer games degrees at Abertay visit https://www.abertay.ac.uk/schools/school-of-design-and-informatics