Abertay achieves Living Wage status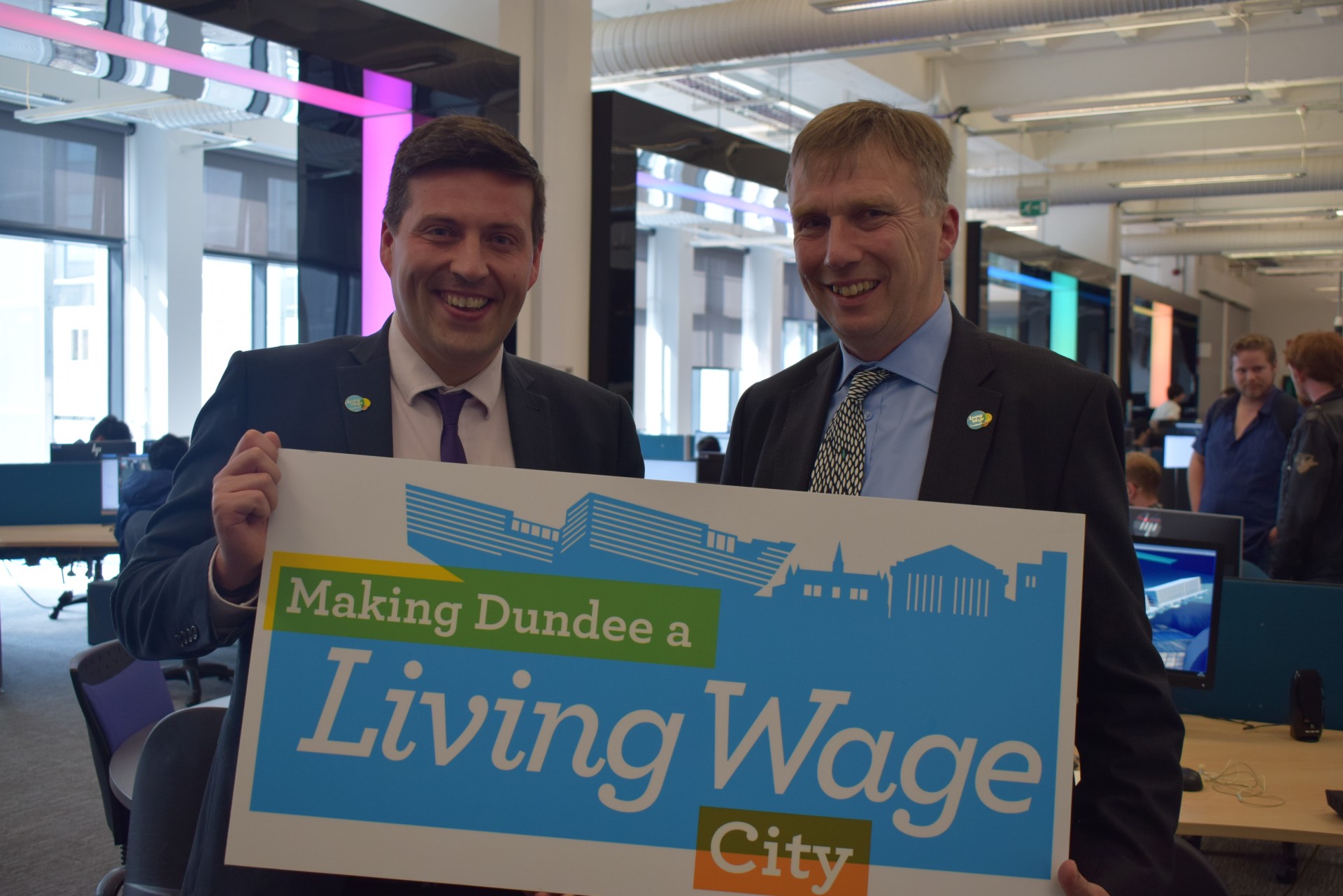 Abertay University is today announced as the first major employer in Dundee to achieve Living Wage employer status since ambitions to create a Living Wage City were announced earlier this year.
Abertay University employs over 700 staff directly and the University's Living Wage accreditation ensures all staff and regular contracted workers earn the voluntary rate of pay set annually by the Living Wage Foundation, currently set at £9 per hour.
The wider move to make Dundee a Living Wage City has delivered a welcome pay boost to workers who are now earning significantly higher than statutory minimum wage rates.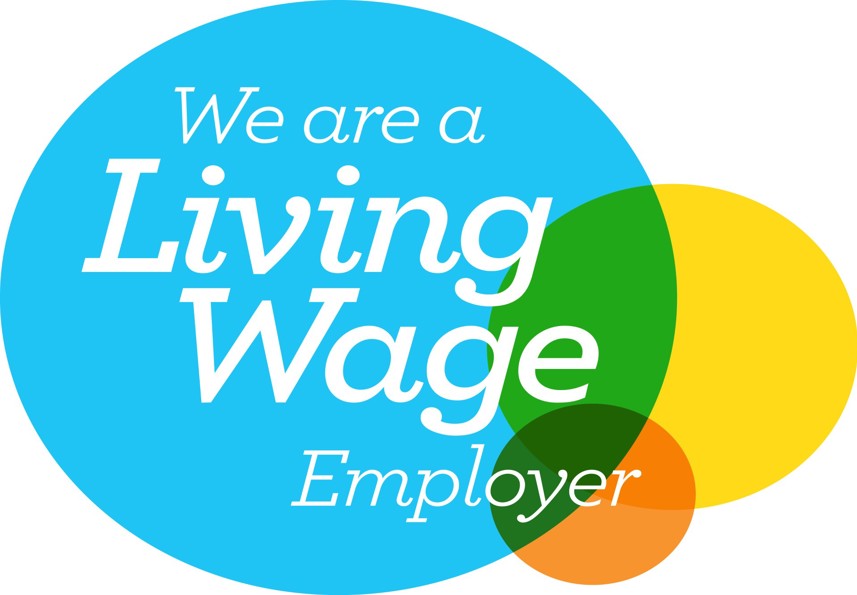 There are now 61 accredited Living Wage employers based in Dundee. Together, they directly employ over 16,400 workers, with regular contracted workers also benefitting from their Living Wage commitment.
 Vice-Principal of Abertay University, Mark Batho said: "Abertay has matched the Living Wage rate of pay for several years and this accreditation further demonstrates our commitment to ensuring our staff and regular contractors are fairly rewarded for their work. I am delighted Abertay has joined the growing ranks of Scottish Living Wage employers and that we are playing our part in making Dundee a Living Wage City."
Dundee City Council Leader John Alexander said: "I'm delighted to see an organisation with as high a profile as Abertay University becoming a Living Wage Employer. In Dundee we are incredibly proud to be championing the real Living Wage and I'm delighted that Abertay are helping us make this ambition a reality. I have no doubt that Abertay joining in the fight for a fairer wage will encourage other big employers in the city to do the same."
Lynn Anderson, Living Wage Places National Coordinator said: "City-wide efforts to make the real Living Wage the expected norm in Dundee are strengthened when major anchor institutions demonstrate leadership and become Living Wage accredited. We are delighted that Abertay University are the first University in the City of Dundee to become an accredited Living Wage employer. Their accreditation is a significant contribution to Making Dundee a Living Wage City, and we look forward to seeing continued growth of the Living Wage employer movement in Dundee and beyond."
Scottish Government Fair Work Minister Jamie Hepburn said: "Ensuring staff are fairly remunerated, by paying the real Living Wage, is a key aspect of demonstrating commitment to fair work practices. That is why I am pleased to see Abertay University has joined the growing movement of employers across Scotland demonstrating that they are paying the real Living Wage. Having an institution of its size achieve Living Wage employer status is critical in taking forward Dundee's ambitions to create a Living Wage City. The Scottish Government has long championed Fair Work and paying the real Living Wage. It ensures that workers are treated fairly and get more money in their pockets. It benefits our economy too, showing that what is good for workers is also good for business and for the economy."
Peter Kelly, Director of the Poverty Alliance said: "The real Living Wage is an important benchmark for wages that can help address in-work poverty in Scotland. There is a strong business case for paying the real Living Wage; but crucially it allows those in work to become more included in society, better provide for their families, and feel that their value and hard work is recognised by their employer. We are delighted to congratulate Abertay University on becoming a Living Wage employer. I hope more organisations follow their lead by becoming accredited". 
Jack Evans, Living Wage Scotland Manager said: "We are a movement of over 1500 Scottish employers who together want to go further than the government minimum to make sure that all their staff earn enough to live on. We have lots of smaller employers as well as larger and iconic Scottish employers like SSE, Standard Life, Barrs, Mackies, ScotRail, DC Thomson and many more. These organisations recognise that the Living Wage accreditation is the mark of a responsible employer and they, like Abertay University join us, because they too believe that a hard day's work deserves a fair day's pay."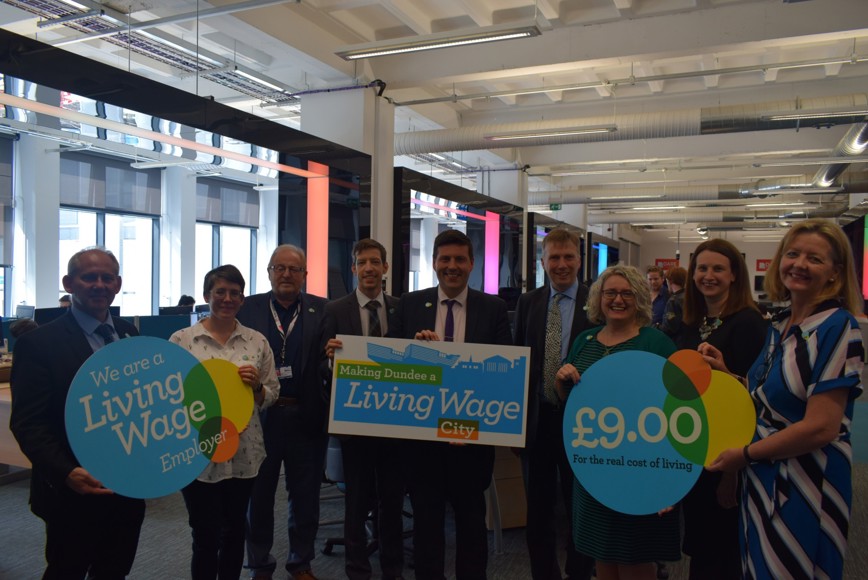 Members of the Dundee Living Wage Action Group celebrate Abertay's Living wage accreditation status. (L-R) Frank Sheach, Deputy Managing Director, Xplore Dundee; Julianne Robertson, Communications Manager, Xplore Dundee; Derek Miller, Financial Inclusion Officer, Dundee City Council; John Alexander, Dundee City Council Leader; Minister for Fair Work Jamie Hepburn MSP; Mark Batho, Vice-Principal, Abertay University; Alison Henderson, CEO, Dundee & Angus Chamber of Commerce; Jaime Boath, HR Business Partner, Abertay University; Jackie McKenzie, Director of External Relations, Abertay University.