VIDEO: Abertay brings Maggie's Penguin Parade to life!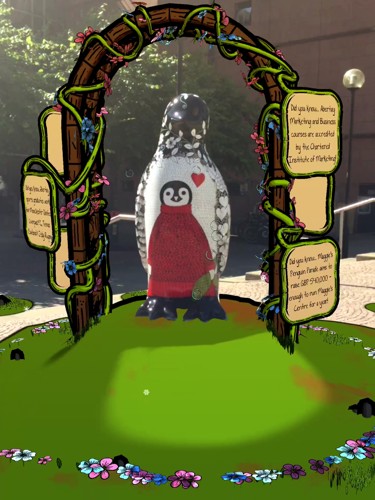 Abertay University students have quite literally brought the Maggie's Penguin Parade to life with a bespoke Augmented Reality app.
The free Fleur's Wonderland app was designed and built around our fantastic sponsored penguin 'Maggie & Fleur', which was itself created by Abertay graduate Suzanne Scott (Whimsical Lush), one of the art coordinators for the parade.
Naman Merchant (PhD student) and Rishikesh Lokare (MProf Games Development) are both students at Abertay - Europe's number one University for computer games.
The pair mapped the penguin's shape and size in the University's green screen area, before creating a beautiful and informative AR experience for everyone to enjoy.
Download the app now for Android or the get the Apple iOS version from July 6 to enter Fleur's Wonderland, where Suzanne's (below) inky illustrations grow and move around a stunning flower-filled garden archway.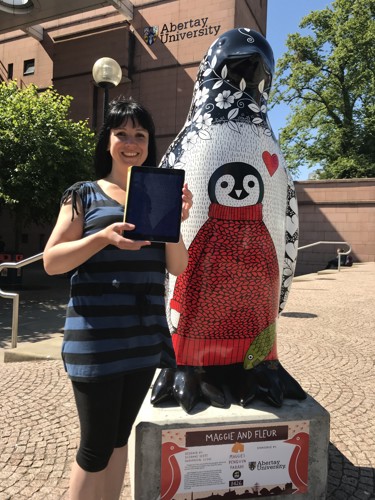 The project was supported by the Weave by Abertay cultural outreach programme, which aims to foster creativity across the city.
Weave curator Clare Brennan said: "We are delighted to be involved in the Maggie's Penguin Parade which aims to raise funds for such an important cause.
"To have students working at the cutting edge of technology collaborating with one of our most talented graduates really is what Weave and Abertay are all about, and the breathtaking results speak for themselves."
Maggie's Penguin Parade kicks off on Friday June 29 and continues all summer.
Don't forget to tag @AbertayUni in all of your penguin pics!