Top level certification for Ethical Hacking degree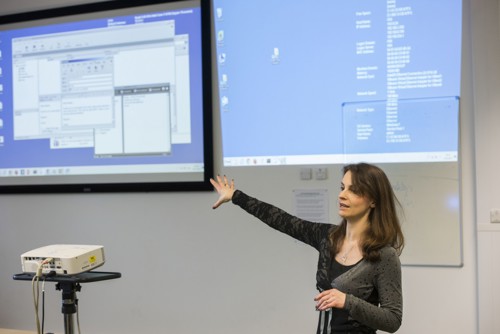 An Abertay University postgraduate degree that sees students develop "the skills and mindset necessary to counter computer hackers" has been certified by the National Cyber Security Centre (NCSC), part of GCHQ.
The prestigious new certification for the MSc Ethical Hacking and Cyber Security course was announced on campus in Dundee today (May 18) at Abertay Students Association's Ethical Hacking Society's annual Securi-Tay information security conference.
Run entirely by students from the Ethical Hacking Society, with help from Abertay Students Association, Securi-Tay is now in its seventh year and attracts around 350 cyber security industry delegates from around the world.
Topics explored within the degree include penetration testing, web hacking, exploit development, digital forensics, network security and information security management.
The application for certification was assessed by a panel from NCSC, including experts from the public and private sectors, as well as independent academics.
Dr Natalie Coull, Head of the Division of Cyber Security at Abertay (above), said NCSC has "a very rigorous process for ensuring that their high standards of quality provision are met".
She added: "I'm delighted this degree has gained such prestigious certification.
"The MSc Ethical Hacking and Cyber Security degree teaches an offensive approach to cyber security, providing detailed knowledge of electronic attacks and how to defend against the methods used to gain access to and exploit a system.
"Abertay is the only University in the UK to offer a Master's programme in Ethical Hacking, exploring pertinent ethical and security issues, developing the traits needed for a hacker mindset and instilling an ethos of improving security in the world of computing."
Chris Ensor, NCSC Deputy Director for Cyber Skills and Growth, said: "We are delighted that Abertay's MSc has been provisionally certified, because it offers another option for students in Scotland and the wider UK seeking excellent quality cyber security education.
"Studying degrees like this one will help prepare students for their future careers in cyber security, and fill the UK's skills gap.
"Certified degrees are part of our programme to set the standard for excellent cyber security education in the UK."
A spokesperson for the Ethical Hacking Society Committee said: "The quality of talks and the support from our sponsors has allowed us to put on yet another fantastic Securi-Tay event.
"This is a great opportunity for our members to learn from and engage with our industry partners who support us year in and year out."
Students on the MSc Ethical Hacking and Cyber Security course benefit from an active teaching group, links to industry and Knowledge Transfer projects.
To apply for the MSc Ethical Hacking and Cyber Security visit https://www.abertay.ac.uk/coursesearch/postgraduate-taught/ethical-hacking-and-cyber-security/