Nine Trades backing for innovative cancer game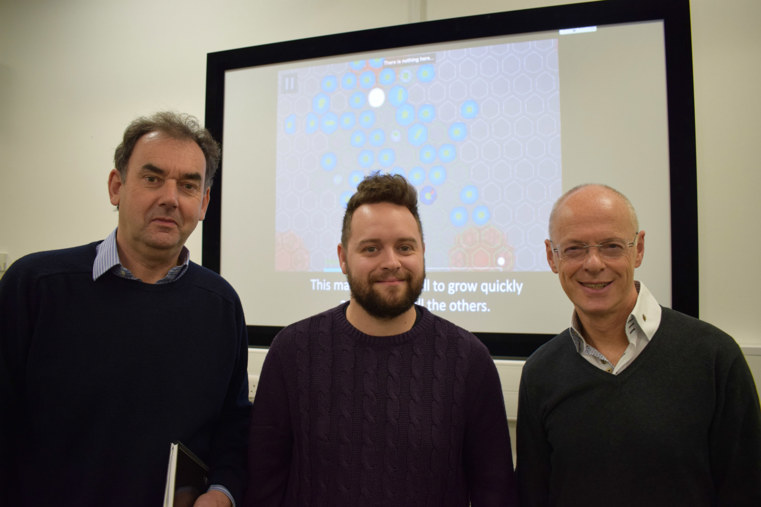 A simulation strategy game allowing players to better understand the behaviour of cancer cells was created by an Abertay University team thanks to funding from the Nine Incorporated Trades of Dundee.
The organisation funded internships for two Abertay students who worked on the project with academics from the Division of Games and Arts, Dr Robin Sloan and Dr Iain Donald.
In playing The Enemy Within, players are required to make adjustments to behaviours and habits which in turn have an influence on the probabilities of aggressive cell mutations and the occurrence and progressions of cancers.
The fully-web based game is now available for development and testing and can be operated on any web-connected computer to engage with schools and public outreach events.
The interns were BSc Computer Games Technology students Thomas Hope and Davide Passaniti, who operated as both programmers and designers
Thomas said: "Games have so much room to expand in both form and function. The Enemy Within project was an opportunity to explore what kind of impact games can have on people's actions once they have walked away from the game, and if this can be used to encourage people to change their behaviour for the better."
Davide added: "Video games are sometimes disregarded as a passive and useless way to spend one's time, but educational games like this are one of the best examples to show the potential of this type of media.
"I have personally benefitted from educational games when I was younger, and I'm glad to be able to give my small contribution towards an important cause such as cancer prevention."
Dr Sloan and Dr Donald presented the project to Tim Heilbronn and Jim Patrick of the Nine Trades during a showcase at Abertay.
Tim said: "Giving young talent like this the opportunity to shine is exactly what the Nine Incorporated Trades of Dundee is all about.
"I look forward to seeing how this game progresses and have no doubt these students are on a path to a great future in the games industry."
For more information on studying computer games at Abertay visit https://www.abertay.ac.uk/discover/academic-schools/arts-media-computer-games/
Picture L-R: Jim Patrick, Dr Robin Sloan and Tim Heilbronn