Scottish Minister Visits Abertay to Praise Introduction of Access Thresholds
Shirley-Anne Somerville, Scottish Government Minister for Further and Higher Education, visited Abertay on 28th March to meet with the Principal and other senior staff and discuss the University's early implementation of access thresholds, which were introduced by the 2017 academic year, far earlier than Government recommendations.
Speaking ahead of the meeting, the Minister praised the University's early adoption of the policy, that offers students places based on both their educational and social background, allowing entrants who may have previously fallen slightly short of more traditional entry requirements the opportunity to further their studies, stating that Abertay should be seen "as an example" for other institutions.
She said: "There is extensive evidence that universities get the best students by taking into account the social and educational background of an applicant in its admissions process, which is why access thresholds have an important role to play.
"This is a view supported by the Commission on Widening Access, who recommended that all universities introduce access thresholds by 2019."
During her visit, the Minister had a tour of the newly-refurbished Bernard King Library by Director of Information Services, Michael Turpie, and met with several students who have benefitted from Abertay's ongoing commitment to reducing inequalities in higher education, including Psychology and Counselling student Arlene Boylan, who came through the AHEAD evening study programme; Daniel Hiddleston, who joined the BSc Sport and Exercise degree from college in Edinburgh after receiving a contextual offer; and recent Ethical Hacking graduate Cheryl Torano, who enrolled at Abertay - the first in her family to attend university - following the completion of an access course at Dundee and Angus College.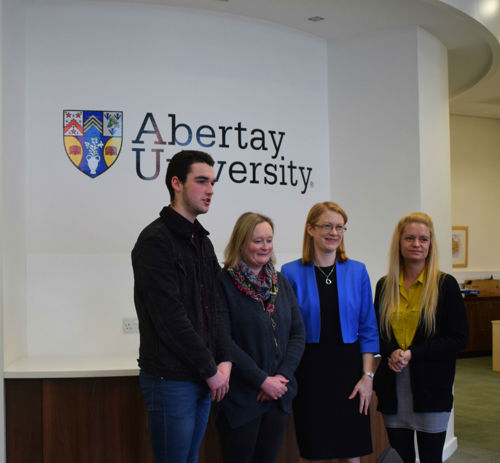 Principal Nigel Seaton said of the visit: "We were pleased to introduce the Minister to Abertay's new approach to supporting students from disadvantaged backgrounds".