Meet our amazing Maggie's Penguin Parade artist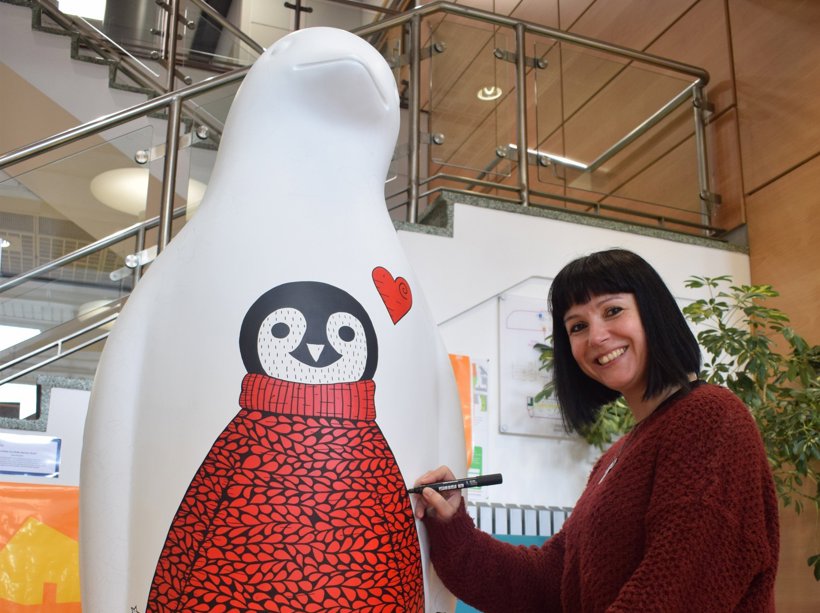 One of the art coordinators behind the Maggie's Penguin Parade will host a 'Meet the Artist' session at Abertay University this weekend.
Suzanne Scott is one of the driving forces behind this summer's campaign from Maggie's Dundee and designed the popular 'Maggie & Fleur' penguin, which is sponsored by Abertay and sits outside the University library.
Between 1pm and 3pm on Saturday, the Dundee artist will be on hand to answer questions about her inspiration for the designs and talk about her experiences on the parade trail so far.
Coming along for the ride will be 'Wee Maggie' – a smaller scale baby penguin sponsored by Signature Signs, which uses the same design as the baby Maggie painted on Maggie & Fleur.
Suzanne, known as Whimsical Lush, said the event would be a first chance for members of the public to see the two penguins side by side.
She added: "There were lots of different inspirations for the Maggie & Fleur concept, but one of the main themes is Maggie in her cosy jumper and how that represents the welcoming, inspiring, warm and safe space that Maggie's Dundee provides to people when they need it the most.
"I've had so much fun with the parade this summer and the reaction that all of the artists have received has been overwhelmingly positive."
Abertay students Naman Merchant and Rishikesh Lokare produced the bespoke 'Fleur's Wonderland' Augmented Reality smartphone app which works with Maggie & Fleur, bringing the design to life.
Those attending the Meet the Artist afternoon can try out the free app, which works on Apple and Android devices and has already been downloaded more than 1,000 times.
Maggie's provides free practical, emotional and social support to people with cancer and their family and friends.
For more information visit maggiespenguinparade.com.