Graduation 2018: Kwame trades military for Mental Health Nursing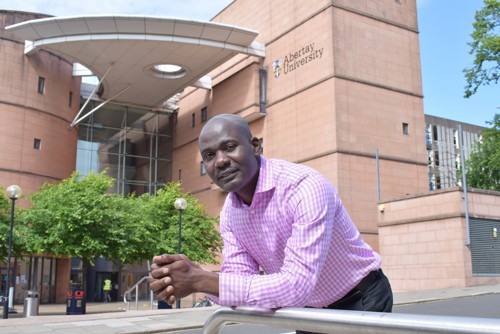 An Abertay University student will graduate this summer having traded a career in the army for mental health nursing.
Kwame Antwi from Ghana served tours with the British Army in Afghanistan and Iraq before deciding it was time for a change of direction.
The mature student has now completed a BSc (Hons) Mental Health Nursing driven by a love for helping others and a desire to provide for his family.
Ahead of the Abertay graduation ceremony on Thursday July 5, Kwame has already secured a job as a Mental Health Nurse with South Staffordshire and Shropshire NHS Trust and is keen to put skills learned on work placements across Tayside into practice.
He said: "I enjoyed every aspect of the course but particularly the clinical placements where I was able to get real-world experience and learn exactly what to expect in the industry.
"Every placement comes with its own experiences. I worked with acute admissions at Carseview, general placements at Ninewells and worked with older adults at Kingsway Care Centre and Murray Royal.
 "I enjoy the aspect of caring and helping people who are acutely unwell - it is amazing to me to feel I have made a difference in that person's life."
Born in Kumasi, Kwame moved to the UK to follow in the footsteps of his late father, who was a Business Management lecturer at Cardiff University.
With his family still living in the Telford area, Kwame has taken advantage of a bursary award to help fund his studies in Dundee.
"I have only been able to travel home every four weeks, so it has been quite tough.
"But I wanted to show my children what it means to have a career and stick to that career path, and mental health nursing is where I want to be.
 "The staff at Abertay have shown me great support and I was always encouraged to keep going."
To study Mental Health Nursing at Abertay visit https://www.abertay.ac.uk/course-search/undergraduate/nursing-mental-health-nursing/