Graduates tee up innovation contest appearance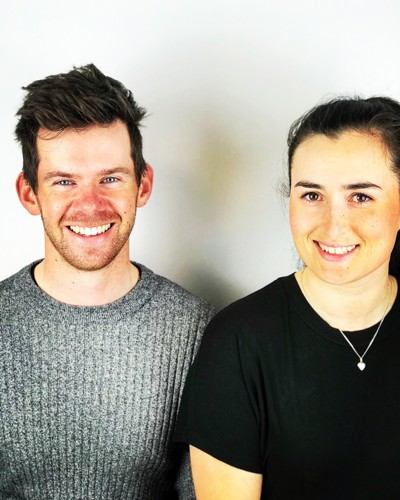 A pair of graduates from Abertay University have made the final of this year's Sports Innovation Challenge – Scotland's only sports-specific startup competition.
The Sports Innovation Challenge – which began in 2014 – is a national competition for university and college students and recent graduates, seeking out the next generation of sports entrepreneurs.
Entrants submit an early-stage idea for an innovative sports product, service or technology with the hope of winning a share of £15,000 cash, mentoring and office space at The Sport Hive in Stirling – the UK's first sports-specific business incubator.
Each of the Finalists will pitch to a panel of judges made up of some of the biggest names in sport and entrepreneurship; including a senior designer from Adidas, the CEO of PureGym and Scottish entrepreneur and social enterprise founder Bruce Walker.
Abertay BSc (Hons) Sports Development and Coaching graduates, Chris Low and Katie Reid (above), have made the final with their innovative idea for a golf app.
Ryan Carenduff, Programme Manager of Sporting Chance Initiative, heads up the Sports Innovation Challenge.
He said: "Once again we're seeing that Scotland has a rich supply of students and graduates who have innovative and enterprising ideas.
"By visiting university and college campuses, myself and the team have been able to show young people that they have everything they need to create great new sports products, services or technologies.
"The ecosystem in Scotland is hugely useful for those that identify as entrepreneurs, but we pride ourselves on finding talented new entrepreneurs before they themselves have even begun to think about starting a business.
"The 12 students in this year's final each have the passion and potential it takes to turn an idea into something real; and it's our pleasure to get them started on that journey."
The Sports Innovation Challenge pitching final will be held in Glasgow on Thursday May 31, with the five winners being announced to the public on Tuesday June 5.