Graduate duo win Sports Innovation Challenge 2018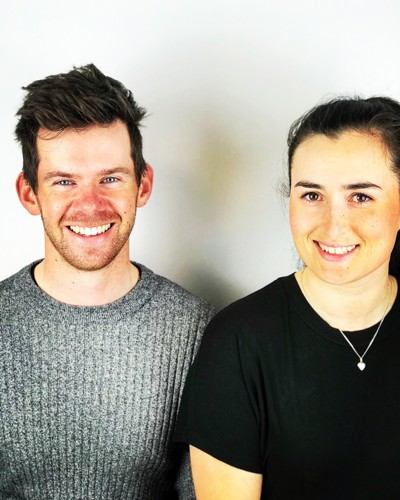 Abertay University graduates Chris Low and Katie Reid (above) have triumphed in Scotland's only sports-specific startup competition with their idea for an innovative new golf app and service called Tour Tag.
Tour Tag is one of five winning businesses in the Sports Innovation Challenge 2018.
The business aims to increase the number of golfers at each of Scotland's clubs and reduce the number of unused tee times.
The Sports Innovation Challenge – which began in 2014 and is managed by Sporting Chance Initiative at Stirling University Innovation Park – is a national competition for university and college students and recent graduates, seeking out the next generation of sports entrepreneurs.
Entrants submit an early-stage idea for an innovative sports product, service or technology with the hope of winning a share of £15,000 cash, mentoring and office space at The Sport Hive – an on-campus facility and the UK's first sports-specific business incubator.
Abertay BSc (Hons) Sports Development and Coaching graduates, Chris and Katie successfully pitched to a panel of judges made up of some of the biggest names in sport and entrepreneurship; including a senior designer from Adidas, the CEO of PureGym and Scottish entrepreneurs Bruce Walker and Neil Maclean.
Katie said: "Chris and I were so delighted to hear that we'd won the Challenge; it really shows us that we're on the right track with Tour Tag and that there's support out there for improving golf in Scotland.
"We've definitely got a long way to go, but Scotland's golf community has been incredibly supportive and we're really excited about the next year in the Sport Hive."
Ryan Carenduff, Programme Manager of Sporting Chance Initiative, heads up the Sports Innovation Challenge.
He said: "Chris & Katie really impressed the judges with their enthusiasm, knowledge and passion for injecting life back into golf in Scotland.
"They've worked tirelessly to build up their business and it's fantastic to see them grow and develop an idea into something that really will reward golfers and improve things for clubs at the same time."
Dr John Rodgers, Director of Research & Innovation at the University of Stirling said: "The Sports Innovation Challenge has once again succeeded in finding an exciting group of young sports entrepreneurs from across Scotland."