Games students bag GDC scholarships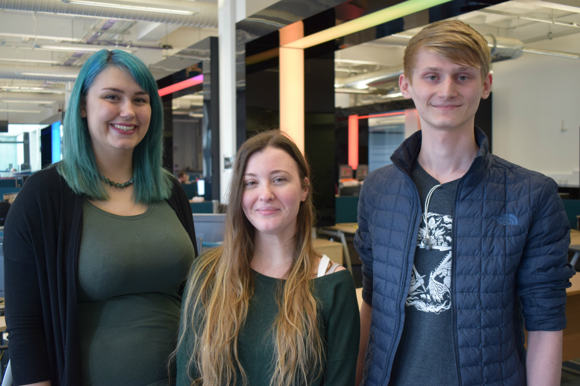 A trio of Abertay University students will jet out to the world's biggest games conference in California after scooping scholarships to attend.
Alice Bowman, Nikita Kotter and Robyn McMillan are preparing to attend GDC in San Francisco, where they will rub shoulders with international industry leaders and 30,000 other games developers.
As ambassadors for the industry, Alice received scholarship funding from the International Game Developers Association (IGDA), Robyn from the organisation GirlsMakeGames and Nikita from games development platform Unity.
Alice said: "I've wanted to go to GDC for years and the IGDA Scholarships are a great opportunity.
"When I got the news that I'd been selected I was overwhelmed at getting the chance to attend the biggest game industry event in the world, and now I can't wait to head to San Francisco.
"There are so many talks I want to attend, and I'm excited to see how the experience helps to shape my research."
Nikita has developed several dozen prototypes using Unity and has been working in the engine since 2012.
He said: "Receiving a GDC All-Access Pass scholarship from Unity was a delightful surprise.
"I applied for the scholarship in December last year, sending a link to my portfolio and project and a 400-hundred-word essay describing my skills and experience.
"I strongly believe that getting the scholarship of this calibre from a respected software developer like Unity provides access to great opportunities at the event.
"Moreover, it greatly contributes to my chances of securing a desired position in the industry and assists me in development of current projects."
Robyn added: "I am so delighted to have been selected as an ambassador for GirlsMakeGames and to receive a GDC Scholarship.
"Their mission to get more young women into games education, industry roles and improve diversity in games is such an important one.
"For me GDC is an opportunity to engage with industry veterans, workshops, summits and get inspired.
"I am eager to learn as much as possible over the five days and apply this knowledge to my current research."
GDC runs from March 19 to 23.
To learn more about studying games at Abertay visit https://www.abertay.ac.uk/schools/school-of-design-and-informatics/division-of-games-and-arts