Environmental Science Student Gains Paid Work Experience Whilst Studying
Ellice Mentiplay, a student on the new BSc Environmental Science and Technology (EST) programme, has started a paid summer placement with BEAR Scotland in Perth this week.
Ellice, who has just completed her second year of studies, will gain hands-on, real world experience working full-time as a Student Environmental Specialist with the BEAR Scotland North East Environmental team until her course resumes in September. 
As part of her placement, a result of Abertay's continued strong working relationships with industry partners and stakeholder organisations, Ellice's key responsibilities will include site-based and desk-based environmental assessment of trunk road maintenance, planning and undertaking ecological field surveys, designing and implementing mitigation strategies, communicating with environmental regulators and stakeholders, and preparing license applications.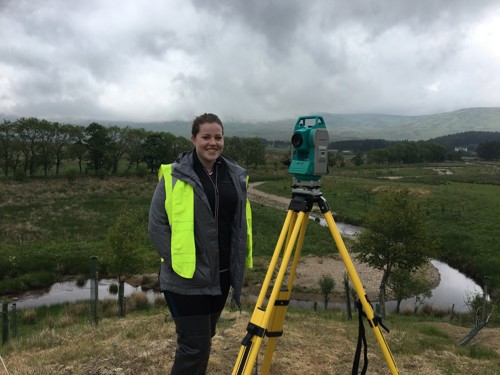 Ellice Mentiplay, BSc Environmental Science and Technology
Dr Rebecca Wade, Senior Lecturer in Environmental Science, said: "I'm delighted for both Ellice and BEAR Scotland. It's wonderful to be able to match our students with great opportunities like this, which help contribute towards the high employability of our graduates. 
"I'm sure that Ellice will be an asset to the BEAR Scotland Environmental team and her future studies will be enhanced by the real world experience she gains during her summer placement."
Dr Ben Jones, Head of the Division of Science, said: "It's a rare distinction for students to get a paid scientific position with a company after just their second year, and a real credit to Ellice and the EST course."    
For further information, and to apply for our BSc Environmental Science and Technology programme, visit the course page here:
https://www.abertay.ac.uk/course-search/undergraduate/environmental-science-and-technology/
You can follow the School of Science, Engineering and Technology on Twitter @AbertaySci.
BEAR Scotland website: www.bearscot.com / Twitter @BEAR_Scotland