Entrepreneurial spirit! Students make alcohol from old bread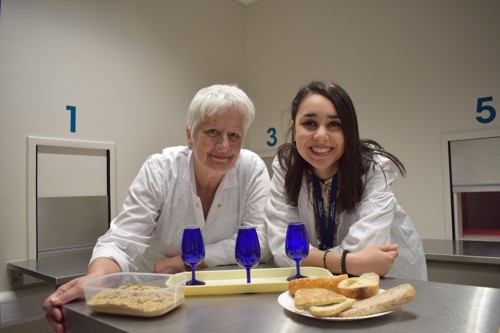 Out-of-date bread and old oatcakes are being transformed into a new sustainable spirit by food and drink innovators at Abertay University.
Masters students Helen Welsh and Chrysoula Antoniadou have created the alcohol product through a distilling process using bakery items donated by baker Fisher & Donaldson.
The process sees starch in the bakery products converted to sugars which are then fermented by yeast to produce alcohol and distilled into a spirit for chemical and sensory analysis.
The students held consumer 'nosing' sessions at Abertay's new £3.5m science labs to discover what the general public would make of the spirit's smell.
That was followed by a high-level industry panel meeting to discuss the commercial potential of the research, including delegates from across the industry and trade associations.
Professor of Zymology and project supervisor, Graeme Walker, said there is major potential for the industry to create new and interesting products from unwanted resources.
He added: "This is a fantastic student project which could have a real world impact for businesses in the food and drink industry.
"Sustainability is a huge topic for the sector at the moment and by exploring these novel ways of using and reusing products we can work towards lowering the amount of waste we produce.
"Our MSc Food and Drink Innovation offers all the skills necessary for a career in the food manufacturing industry, through a flexible programme in which students work in multidisciplinary teams.
"It is really pleasing to see such a great piece of student-led research get off the ground."
Helen added: "I'm interested in utilising waste and Chrys is interested in brewing and distilling, so it was a natural fit to work together.
"The consumer testing has gone well and we are confident the project could carry on beyond academic research."
To study MSc Food & Drink Innovation at Abertay visit https://www.abertay.ac.uk/course-search/postgraduate-taught/food-and-drink-innovation