Converge Challenge success for Tayyaba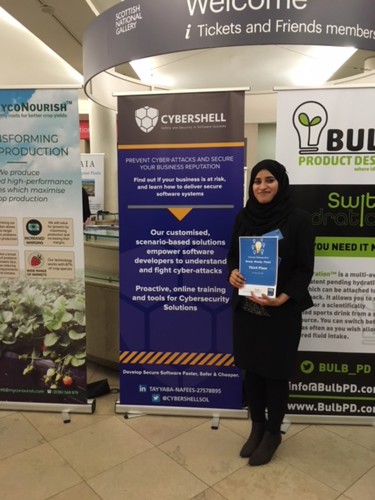 An Abertay University PhD student took third place at the latest phase of the prestigious Converge Challenge enterprise contest.
Tayyaba Nafees scooped the honour for her business @CyberShellSol, which involves digital products and online services that provide the software industry with the latest cybersecurity information.
In total, Abertay had four business projects in the Top 30 Showcase stage of the competition, which showcases the most innovative ideas emerging from Scottish Universities.
Each finalist had three days of business training ahead of the Ready Steady Pitch event on Thursday May 31, which saw them make 60 second presentations to a panel of experts and industry professionals.
Olga Kozlova, Director of Converge Challenge said: "The calibre of the pitches was exceptional and I want to praise each and every one of the cohort involved.
Paul Wheelhouse, Scottish Minister for Business, Innovation and Energy, said: "Our universities are world class and it is heartening to see that this group of the shortlisted finalists in the Converge Challenge includes a trend toward technology, health and robotics."
Converge Challenge harnesses and supports Scotland's emerging entrepreneurial leaders from academia.
It provides them with the skills and confidence to develop their commercial propositions to meet societal challenges and become key drivers of the economy.
Converge Challenge now continues with the overall winners of each of the three Converge Challenge categories – Converge, KickStart and Social Enterprise - announced at a gala awards ceremony at the Assembly Rooms, George Street, Edinburgh on September 20.
A full list of all finalists can be found on the Converge Challenge website https://www.convergechallenge.com