Class of 2018 graduate in style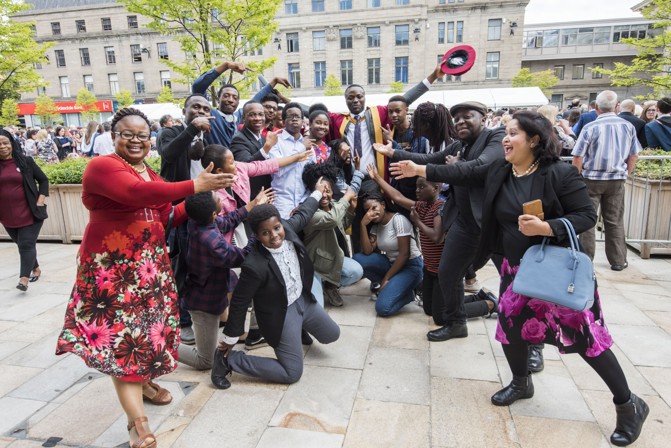 Abertay University's Class of 2018 graduated in style on Thursday July 5 in courses ranging from Computer Games and Ethical Hacking to Sports Science, Forensics and Law.
More than 750 students attended the annual ceremonies at the Caird Hall, capping a year of achievement for the institution.
Receiving degrees from the University's four academic schools: Design and Informatics; Social and Health Sciences; Science, Engineering and Technology; and Dundee Business School, the cohort enjoyed an open air celebration in the city square, taking in another day of glorious sunshine in Sunny Dundee.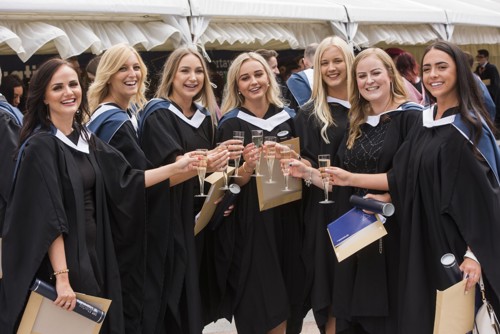 The event rounded-off a year of success for Abertay, which has seen the University named number one in Europe for computer games education by the prestigious Princeton Review and ranked top modern university in Scotland by the Guardian University Guide.
Joining the students were three Honorary Graduates, including leader of the first wholly Scottish expedition to the North and South Poles, Craig Mathieson;  former president of the Institution of Civil Engineers Dr Jean Venables; and Professor of Mycology Lynne Boddy (below) of Cardiff University.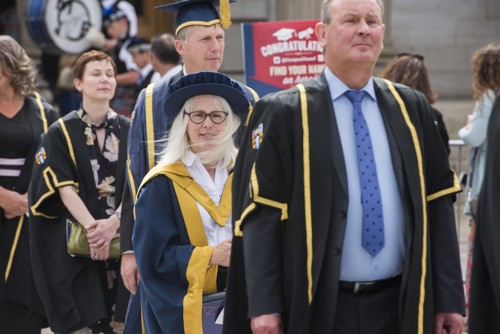 Mathieson, who has recently worked with the Discovery in Dundee and Fife schools through his Polar Academy project, told graduates: "I was 12 years old when I decided to become a Polar Explorer.
"Unfortunately, being a Polar Explorer is not part of any career choice at High School or University; therefore, I had to work extremely hard for many years to eventually succeed.
"Along the way, I met many people who told me what I couldn't do, or what I wanted to do was just too difficult. You will also regularly meet these people in life. I've always found it best to deal with these people is by thanking them for their 'terrific' advice, look them straight in the eye, smile, shake their hand…and then disregard everything they've told you and stick to your original plan."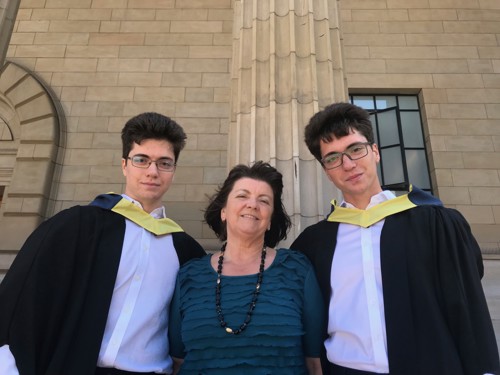 Identical twins from Romania, Darian and Adrian Gheata, graduated from the Division of Sport and Exercise, watched by their mother Emilia who moved the 3,000 miles from Bucharest to Dundee to support them over the last three years.
Darian said she had looked after them financially and kept them well fed with home-cooked Romanian favourites such as Mamaliga, a porridge made out of yellow maize, and Sarmale, sour stuffed cabbage rolls with bacon.
With Emilia's husband Bogdan caring for the twins' elderly grandfather back in Romania, the family have only been able to come together a small handful of times over the last three years.
Darian: "We are hugely grateful for the opportunity to come here and for the funding we have received.
"I would now like to get employment at a club to be the Sports Psychologist for tennis performance, or to work as a coach using the skills I've learned."
Darian, graduated with a BSc (Hons) in Sports Psychology, and Adrian, with a BSc (Hons) Sports Development and Coaching. Both are key members of the Abertay Tennis Club and regularly play as doubles partners.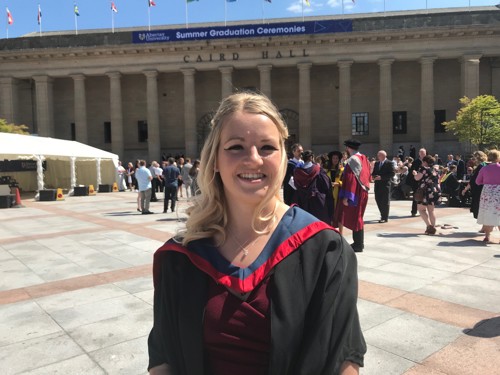 Sarah Herd (above), 26, from Glenrothes, who is the player/manager of East Fife Violets WFC, graduated in Msc Counselling.
Her final year project looked into the effects of football as a team sport as a cultural resource for mental wellbeing amongst female students.
She said: "I was able to identify that those utilising football gained benefits from team sport over individual sport such as friendship, team work, social inclusion.
"I also identified from this study that those in the team associated football with better academic attainment and academic success by having a stress outlet."
Sarah, who has always struggled with anxiety and depression since childhood, said moving to Dundee to come to Abertay was "the best thing to happen to me".
She added: "I built friendships, confidence and learnt how to manage my anxiety.
"It was through this that I realised my passion for pursuing a Masters in counselling and drawing on my own experiences to help other people."
Sarah hopes to go on to complete a PhD next year.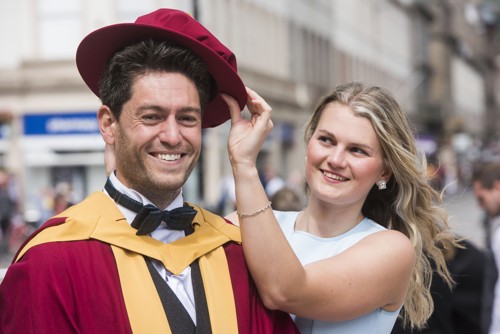 Dundee student Oliver James (above), who left school with one Higher, became an Abertay University PhD graduate - creating a piece of history in the process.
Dr James is now the first student to join Abertay from college then successfully complete both an undergraduate degree and a PhD with the institution.
Succeeding in his studies despite dyslexia, the 28-year-old - who has spent the last nine years in Further and Higher Education - said becoming a fully-fledged Doctor in Exercise Physiology made the years of sacrifice "completely worth it".
He added: "I did my undergraduate degree at Abertay University and during my final year I developed great relationships with the lecturing staff.
"This was important to me as it gave me peace of mind, knowing that my PhD supervisors would offer excellent help and support given they are expert leading researchers within their areas of research.
"My advice to anyone coming to University is to join a sports club or society, because the people you meet in these groups will become some of your closest friends.
"And if you ever need help with any aspect of University life - just ask for it."