China agreements strengthen course links
Abertay University has signed new agreements with two leading Chinese universities which will see their students benefit from Scottish expertise in sports science and accounting and finance.
A memorandum of agreement with Guangzhou Sport University, which has a strong track record of producing Olympic level athletes, will see qualifying Chinese students progress to year three of Abertay's BSc (Hons) Sport and Exercise, BSc (Hons) Sport and Exercise Science, BA (Hons) Sport and Management and BSc (Hons) Physical Activity and Health degrees.
A similar agreement with Yang-En University in Quanzhou would see students come to Abertay in Dundee for third year BA Accounting and Finance, or fourth year MSc Accounting and Finance.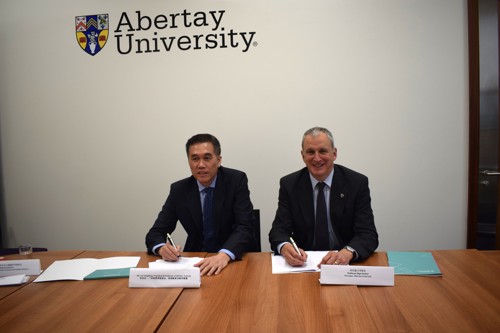 Guangzhou Sport University President and Professor of Athletic Training, Liu Yongdong signs with Abertay Principal Professor Nigel Seaton.
Principal Nigel Seaton said: "We are delighted to have signed these two MoA agreements which further strengthen our links to China and these important partner universities.
"Our accounting and finance and sports courses provide students with highly-regarded industry-relevant qualifications, offering the ideal preparation for the world of work."
While in Scotland, the academic party from Yang-En, including Vice Principal Huang XiaoMing and Deputy Director of the International Office, Han Yong, learned more about the Abertay teaching framework.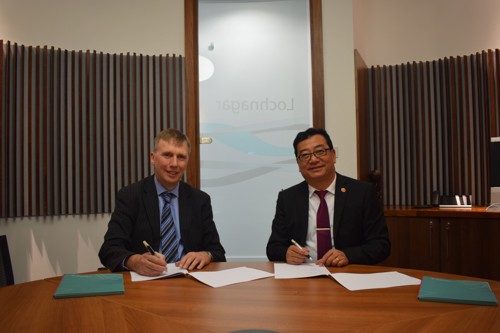 Abertay Vice Principal Mark Batho signs with Yang-En Vice Principal Huang XiaoMing
The delegation from Guangzhou, included President and Professor of Athletic Training, Liu Yongdong; Director of the General Office, Zhang Yufang; Director of International Office and Associate Professor of Sport Media, Cui Junming; Director of the Academic Affairs Office and Professor of Physical Education, Xu Ji, and Director of Competition/Training Division, Dean of Faculty of Physical Education and Professor of Physical Education, Su Bin.
The group was given a tour of Abertay's biomechanics lab and travelled to Dundee United Football Club to witness some partnership work with students.
Earlier this year, Abertay signed an agreement with Beijing-based Perfect World Education, which will see a new Executive Professional Masters in Games Development delivered in China, while also exploring a range of future academic, research and business collaborations