Abertay graduate using sport to inspire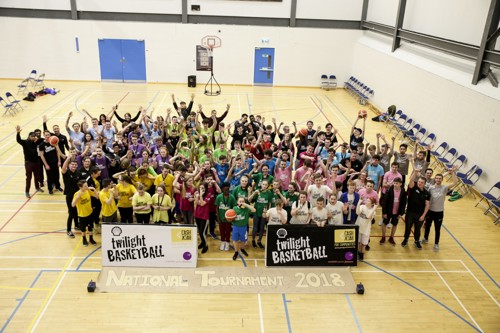 An Abertay graduate is coordinating a basketball scheme which aims to encourage young people into sport and away from drugs, alcohol and smoking.
Martyn Horsfield graduated from Abertay with a degree in BSc (Hons) Sport and Psychology and is now Senior Programme Coordinator for Shell Twilight Basketball (STB).
STB recently hosted its 10th National Tournament (above) at Ravenscraig Regional Sports Facility in Motherwell, featuring around 150 young people from Dundee, the Highlands, North Ayrshire, Stranraer and Glasgow.
The event was a first for youngsters from Dundee's new STB session (below) and the team was awarded the 'Spirit of the Tournament' prize.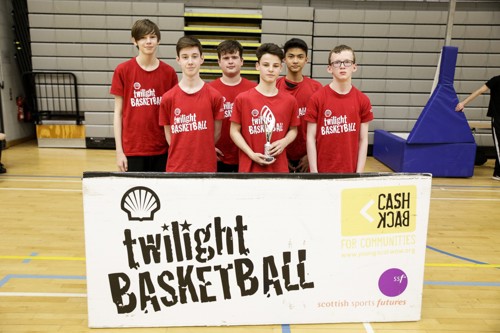 The Dundee session runs every Friday night from 8pm to 10pm at Kirkton Community Centre, aiming to keep young people off the streets and get them active.
STB is delivered by qualified coaches and youth workers who provide a variety of content suitable to the participants
Martyn said: "STB is run by Scottish Sports Futures which takes a lead role in the Sport for Change agenda - an up and coming area in sports development and a priority in the new sportscotland strategy.
"We are always keen to get more volunteer coaches involved and anyone interested should get in touch."
Martyn also coordinates the STB Ambassador programme which offers young people motivation and support to take on leadership roles, become positive role models to their peers, and volunteer in their local communities.
Three young people from the Dundee session will start their ambassador journey this month with a residential induction course followed by a year of tailored training.
In addition to Shell, STB is also supported by the Scottish Government's CashBack for Communities scheme, North Ayrshire Alcohol and Drugs Partnership and BBC Children In Need.
For more information see website: www.scottishsportsfutures.org.uk
To get in touch with Martyn email martyn@ssf.org.uk