Abertay food student wins national science prize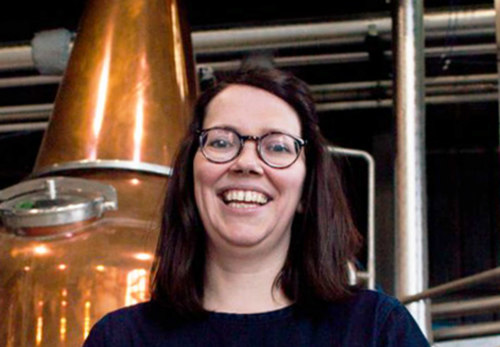 A brewing and distilling expert behind an award-winning Scottish gin has scooped the Institute of Food Science and Technology (IFST) Young Scientist of the Year Scotland Award.
Kirsty Black (above), a PhD student at Abertay University and the James Hutton Institute, as well as a distiller at Arbikie Distillery in Angus, took first prize in the national competition, which sees a panel of industry professionals analyse the best in food and drink research.
The judging panel (below) for the event, chaired by Rachel Mirfattahi of Interface & IFST, included Alastair MacGregor of Scottish Schools Education Research Centre & IFST, Mark Watson of PepsiCo and Patrick Smyth of Food Standards Scotland.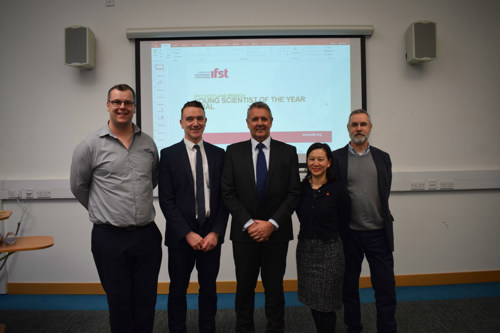 Kirsty placed first in the postgraduate competition, presenting details of her project looking at the potential for legumes, via intercropping, to replace the use of inorganic fertiliser on cereal crops. 
She also aims to utilise the starch from the resulting pea or bean crop to produce alcohol and the protein to feed in to the aquaculture industry.
Kirsty said: "To have my work recognised by my peers and food industry experts in this way is fantastic and I'm delighted to have been part of the competition.
"Abertay is at the forefront of Food Innovation in Scotland, so it's an exciting time to be studying here, particularly with the country's quality food and drink industry in such a strong position."
Abertay hosted the Scottish leg of the UK event, with others running at London Metropolitan University and Manchester Metropolitan University.
Entrants are required to submit an abstract no longer than 150 words on current work or a recently completed food-related project from areas such as Food Science, Food Technology and Human Nutrition, Sensory Science, Food Safety Management and Food Consumer Behaviour.
Michael Norris of Glasgow Caledonia University took the Scottish undergraduate prize.
Kirsty joined Arbikie in January 2014, working with the Stirling brothers, John, Iain and David on their Arbikie Highland Estate.
All raw materials for Arbikie spirits are grown on site, meaning that everything is farm to bottle and of excellent quality.
Click here to find out more about studying food and drink courses at Abertay.