300 pupils get creative for British Science Week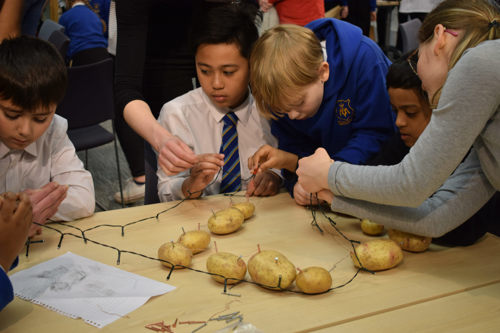 More than 300 primary school kids from across Dundee took part in a range of colourful experiments as part of Abertay University's British Science Week events.
Children from Claypotts, Our Lady's, Rosebank, Victoria Park and Blackness primaries were at the Bell Street campus on Friday for a full day of activities designed to promote an interest in STEM subjects.
Held in both the Abertay Student Centre and the University's Events Space, the hands-on activities included how to create a rainbow in a bottle, a session looking at polarity in liquids and how to use potatoes to generate electricity.
The children learned how to take fingerprints, build catapults, write secret messages using invisible writing and explored the concept of pressure.
All sessions were presented by Abertay students as part of their coursework for the elective module, Inspire and Discover: Communicating Science.
Organisers Dr Janet Horrocks and Dr Joanna Fraser of Abertay's Division of Science, timed the event to coincide with activities across the country for British Science Week.
Dr Horrocks said: "This has been fantastic exercise, both for getting the pupils interested in science and in terms of delivering hands-on teaching experience for our students.
"British Science Week is a tremendous way to raise the profile of STEM subjects and encourage young people to consider science as a career or further study option."
As part of British Science Week, Abertay also hosted a Science in the Cinema talk about plastic pollution and lecture on using soil in forensics investigations.
Abertay's Division of Science offers a BSc (Hons) Forensic Sciences, BSc (Hons) Biomedical Science/BSc (Hons) Applied Biomedical Science and a BSc (Hons) Environmental Science and Technology.