Tragic solider's story told through digital comic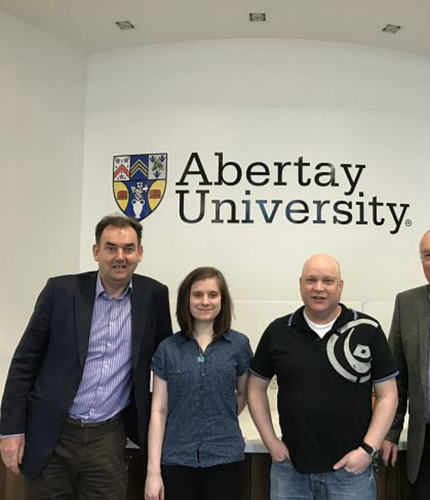 The tragic story of a Black Watch soldier executed for desertion during the First World War is now being told anew for today's generation – through a digital comic.
Thanks to a partnership between Abertay University and the Nine Incorporated Trades of Dundee, the story of Private Peter Black, who died aged just 21, will live on.
An Innovation Internship funded by the Nine Incorporated Trades enabled computer arts student Fruzsina Pittner to design the comic.
The 22-year-old fourth-year student created '5:47' – named in reference to the time of Peter's execution - in a bid to ensure his story could be told to a modern audience.
The comic is now available for free download from the Great War Dundee website.
Members of the Nine Trades – Deacon Convener Murray Petrie and education officer Jim Patrick - came to Abertay this week to see the finished project.
Peter was shot by firing squad at 5:47am on 18 September 1916.  But his name may have been lost from history were it not for a public outcry in his hometown of Newport-on-Tay.
After the war, plans were drawn up for the town's official war memorial to commemorate the 84 local men killed in the conflict.
Some bereaved parents and the local war memorial committee demanded that Peter's name be excluded on the grounds that it was 'unsuitable' for a Roll of Honour.
However, some ex-servicemen who knew Peter protested angrily, even threatening to blast the memorial into the River Tay with gelignite if his name wasn't on it.
They believed that he shouldn't have been on the frontline at all due to his fragile mental state, and that his service in major battles earlier in the war gave him the right to be included.
At a fiery public meeting, the community voted overwhelmingly that Peter's name should appear on the monument – unusual at a time when most people regarded desertion as a terrible crime.
Now, the story is being told afresh – after months of hard work by Fruzsina and project supervisor Dr Iain Donald, lecturer at Abertay University.
Fruzsina said, 'It was extremely interesting and rewarding to participate in a project like this. It wasn't simply an artist job, but detective work, a lot of writing and narrative construction about events about which factual evidence is often contradictory or hard to find.
'The story itself had to be pieced together from old newspaper articles, Private Black's service records, books and some of the myths that surround his story.
'This project has largely shaped the artist I am now, my career aspirations and my skills, and it wouldn't have been possible without the help I have received from the Nine Trades.'
Murray Petrie, Deacon Convener, Nine Incorporated Trades of Dundee, said, 'This project has shown how the Great War impacted on ordinary men and women and how many families still treasure memories of those who did not return.
'We in the Nine Incorporated Trades of Dundee have been delighted to provide financial assistance to Abertay for this project and look forward to our continuing relationship with the University.'
Read the digital comic at http://www.greatwardundee.com/2016/10/05/ww1-deserter-honoured-by-his-community/
(Left to right) Jim Patrick, Education Officer (Nine Incorporated Trades of Dundee), Abertay student Fruzsina Pittner, Abertay lecturer Dr Iain Donald and Murray Petrie, Deacon Convener (Nine Incorporated Trades of Dundee).