Students find success through Clearing at Abertay
As school leavers open their exam results today a duo of Abertay graduates share their successes since coming to the University through Clearing.
Abertay's Clearing Fair runs tomorrow offering the ideal chance for students to secure a place on the right course for them, whether they got unexpected exam results, fancy a change of path or simply hadn't thought about university until now.
The Clearing process is open until August 28 and Abertay's hotline is now open on 01382 308080.
Four years ago, Civil Engineering graduate Darren Donaldson was just entering the Clearing process at Abertay and now has a degree under his belt and is preparing for a Masters.
Darren, who is currently enjoying a summer of work experience in structural design, said Abertay had provided an "excellent perspective and great opportunities".
The 21-year-old from Fife completed the Bsc (Hons) Civil Engineering course, which was recently ranked top in Scotland and sixth in the UK by the prestigious Guardian Good University Guide 2018.
"Abertay's course uniquely works to prepare you for becoming a Civil Engineer, with a range of practical modules and activities - from the Constuctionarium event to placements with a wide range of construction companies," said the former Canmore Primary School and Dunfermline High School pupil.
"The course has given me an excellent perspective and great opportunities to learn how civil engineers operate from a professional real world standpoint, rather than only learning the theory."
Meanwhile, Abertay graduate Lauren Rankine will be rubbing shoulders with rock royalty after securing a job marketing a major Scottish music festival.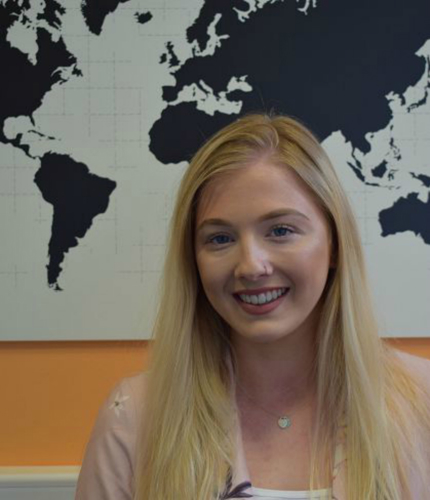 She is graduating from Abertay's Dundee Business School having secured a place on the BA (Hons) Marketing and Business course through Clearing.
The 21-year-old from Stirling has big plans for the coming year and is targeting both a period working overseas and a stint marketing a new festival set to hit central Scotland in 2018.
She said: "I'm going to be one of the lead marketers with it and there will be a team of us.
"There will be loads of different business angles to cover and I will be working both on the accounting side and the social media and digital marketing aspects.
Lauren said coming to study in Dundee had provided her with a strong grounding in business and, such is her confidence, she is eventually hoping to start her own company.
"I have really enjoyed Abertay and the standard of teaching is brilliant – it's such an innovative university," said Lauren, who attended Alloa Academy.
She added: "There's so many people from different backgrounds at Abertay, especially in business, so it's really nice to be immersed in that.
"I'd like to think in five or 10 years' time I would have my own company because I want to work for myself."
For more information on Clearing at Abertay visit https://www.abertay.ac.uk/clearing/