Science division stages graduate showcase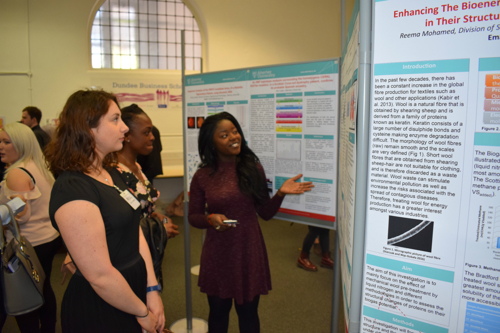 An investigation into how e-cigarettes can influence antibiotics and research on early breast cancer detection were among more than 70 final year projects at this year's Abertay University Division of Science showcase.
The annual poster presentation held from 11.30am to 3.30pm on Thursday May 4 included an array of final year work from across  BSc Forensic Science and BSc Biomedical/Applied Biomedical Science and will be attended by more than 200 people.
Harley Ross, an Applied Biomedical Science student, has been looking at whether e-cigarettes change how bacteria respond to antibiotics.
Her project found that chemicals in e-cigarettes lead to greater biofilm formation by bacteria - a property that is often associated with increased antibiotic resistance.
Harley said: "There's not a lot of research going on into e-cigarettes just now so I thought it would be an interesting area of study.
"I hope it is something that will be carried on in the future."
Other research topics range from developing techniques to identify fingerprints on new polymer bank notes to working out a method to identify genuine heather honey.
Another graduate explored the ethics of holistic fertility clinics while further research evaluated biomarkers for the early detection of breast cancer.
All students are presenting posters summarising their research to academic staff and the general public.
This is the final assessment for the students and the culmination of four years of study.
The final project comprises one third of the final year for both programmes and makes a substantial contribution to degree classification.
Projects are based around staff research interests so that students can carry out work at the cutting edge of their discipline.
Recent investment by the laboratory space has increased capacity to support students.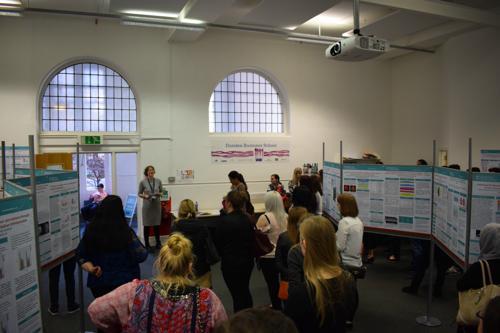 Dr Janet Horrocks, who organised the poster event, said this year's graduates had come up with a diverse range of projects.
She added: "This event is the highlight of the year for our graduates and marks the end of their degree courses.
"The standard of this year's work has been particularly high and  that is testament to the hard work and long hours the students have put in to achieve their research goals."