Professor calls for 'fake news' education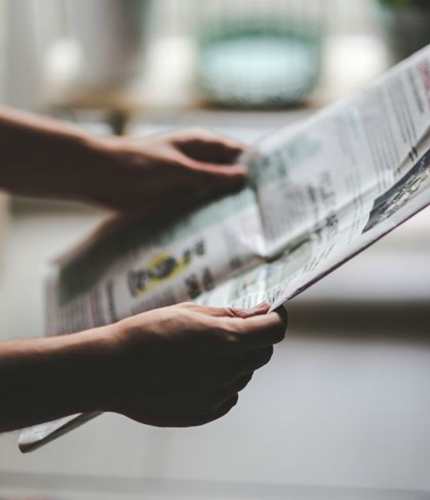 School pupils must be educated on 'fake news' to avoid them being "swept up in hysteria or fantasies" by targeted social media campaigns, an Abertay University Professor has urged.
Professor Alex Law, whose research includes issues around social change and state formation, said it is vital to have informed citizens literate in the workings of the media and politics as the world navigates turbulent times.
The Abertay sociology expert delivered a talk on the fake news phenomenon at an Association for Media Education in Scotland conference in Edinburgh.
Presenting to an audience of school teachers and other educators, Prof Law outlined a balanced view of the impact of social media and the importance of youngsters independently assessing the veracity of news media – including deliberately fake sites.
"It's a worrying time because you can see where it leads," said Prof Law.
"The real problem for me is the way that fake news frightens and worries and causes anxieties that escalate social and political problems.
"My major worry is when fear comes into it through deliberate misinformation to target some sections of society as the enemy.
"People need a more critical grasp of the dynamics.
"It's thinking about educating students in media literacy so they themselves can put it into context.
"Fake news gives rise to fantasies that will never happen and there's a worry that some politicians will heighten expectation and say anything to win popularity.
"If masses of people buy into that, how are we going to deal with the mass disappointment that follows?"
Prof Law is a lecturer at Abertay, which offers a suite of courses including BA (Hons) Sociology, BA (Hons) Criminology and BA (Hons) Social Science, as well as the AHEAD access programme.
He said social media had "changed the game" in terms of media reporting with the dominant view being that it's instantaneous nature had corrupted media literacy.
"It is very easy to get into a scenario where there is escalation, exaggeration and distortion," he said.
"In the interest of democracy, the last thing we want is more government regulation and we want people to be able to air opinions.
"However, a problem arises when people start to challenge scientific consensus on an issue, and that can often be done out of ignorance or out of ideology.
"You have to leave space for expert knowledge and there's often a conflict there.
"Experts always have a role to play even though they have to justify their position to a public that may not know the subject in detail.
"Experts must try to guide the conversation without setting themselves up as infallible gods."
The Association for Media Education in Scotland conference was held at the University of Edinburgh on June 3.
Conference organiser, Rick Instrell, said the event was designed to look at how teachers can promote respectful, rational and evidence-based dialogue when politicians and media often gain support and audiences through the opposite.