Kilted yoga star launches mental health programme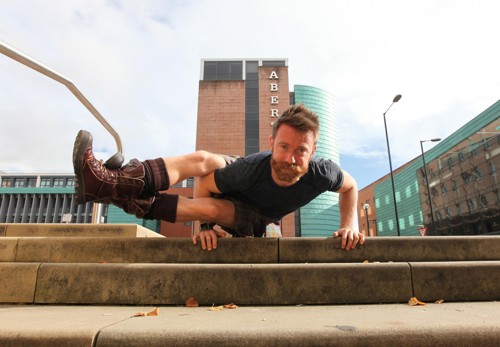 Kilted yoga star Finlay Wilson today launches the first events in a ground-breaking new mental health and wellbeing programme from Abertay University.
The Dundee-based practitioner will run two workshops on November 4 to kick off Abertay's Open Minds programme, a rolling series of Continuing Professional Development sessions and courses from the Division of Mental Health Nursing and Counselling.
Open Minds will cover an extensive range of issues over the coming months, including how to manage self-harm in young people, ways to better understand those with dementia and art workshops to train carers in being creative.
The offering is aimed at anyone with an interest in exploring wellbeing, as well as those already working in the mental health sector.
In the first morning session, looking at 'Muscles and Emotion,' Finlay will start by explaining how muscles sequester emotion and run a series of breathing, meditation and journal exercises exploring how the use of primary postural muscles are connected to emotional tendencies.
The afternoon 'Fight or Flight instincts' workshop will begin with a briefing on human anatomy and how yoga can be used in therapeutic processes, followed by some chair-based exercises.
Finlay said: "Yoga has been used as a therapeutic tool for thousands of years, now we are seeing how the modern body can use these skills to better process and handle our living environment.
"Through my own experience in the yoga room and massage table, I have seen tendencies that can help move a person closer to healing and achieving radiant health."
On November 22, Open Minds will welcome comedian Viv Gee, an ambassador for the benefits of stand-up comedy to mental health.
She will run a workshop in writing and performing comedy that encourages personal exploration and will also teach the skills that can direct others towards introspective analysis.
Head of the Division of Mental Health Nursing and Counselling Robin Ion said: "Through our Open Minds programme we will offer bitesize half or full-day workshops, as well as more intensive courses lasting over academic semesters, all with the aim of up-skilling the wide variety of people who need or want to have a better understanding of mental health issues.
"It has been fantastic to see mental health climb gain greater prominence on the public health agenda in recent years and this programme is all about providing skills and knowledge that will directly benefit those with mental health issues as well as family members, co-workers and friends.
For more information or to sign up for a course or workshop visit http://onlinestore.abertay.ac.uk/product-catalogue/short-courses-and-cpd/open-minds-cpd
Finlay will be launching a new book in October.
For more information visit www.finlay-wilson.com