Feather fingerprint research presented to conference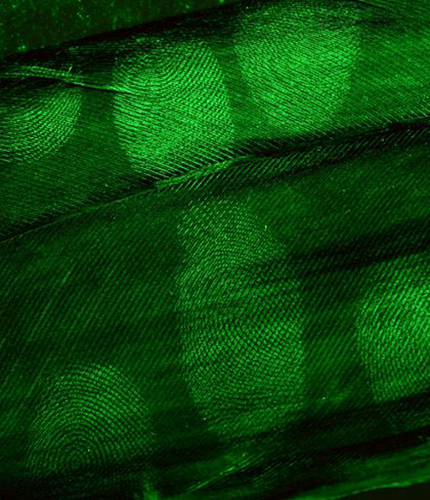 Pioneering Abertay University work to enable the recovery of fingerprints from the feathers of birds of prey has been presented to the International Society of Wildlife Forensic Science conference.
Abertay PhD student Helen McMorris delivered a presentation detailing her innovative project, which is investigating techniques to take fingerprints from bird feathers in a bid to prove human involvement in wildlife crime.
The conference in Edinburgh, which runs until June 9, comes after figures in the latest RSPB Birdcrime report revealed almost 200 bird of prey crimes in the UK in a single year.
At present, toxicological tests can prove a raptor was poisoned and DNA swabbing can confirm dog attacks, however there is no accurate measure of human involvement.McMorris, a part-time teaching fellow with Abertay's Division of Science, said a lack of forensic evidence could hamper wildlife crime investigations, where it is already difficult to secure a prosecution.
She added: "We only have to look to a few weeks ago when at least two cases in the UK were dropped by the courts for what they considered to be non-admissible video footage.
"My research has been investigating the development of fingerprints on bird of prey feathers in an attempt to help confirm human involvement in wildlife crime and potentially provide more evidence for court.
"The structure of a feather is very similar to the fine weave structure of some fabrics such as silk.
"It has recently been found that fabric with a thread count of three per millimetre can sustain a fingermark or grab mark, and after microscopic examination, it was found that bird of prey feathers have a barb count of three per millimetre, suggesting that they could sustain a fingermark.
"Fingerprint development is about having a strong colour contrast between the background surface and the developed print.
"On feathers, this proved to be very difficult as they can be black, brown, grey, white, and therefore commonly used CSI powders such as black magnetic powder, or aluminium powder, were unsuitable for use.
"It was green and red magnetic fluorescent powder that were most effective.
"When excited with a blue wavelength of light and viewed through a yellow filter, they fluoresce.
"This fluorescence suppresses the background colour, no longer making it problematic and allowing the developed fingerprint to be clearly visible.
" Statistics from the latest Wildlife Crime in Scotland Annual Report show there were 18 bird of prey crimes recorded in Scotland in 2015.
Abertay places importance on linking research to real word problems and has a wealth of connections between academic practitioners and ends users.
For more information on studying forensic science at Abertay visit https://www.abertay.ac.uk/discover/academic-schools/science-engineering-and-technology/divisionofscience/