Family donates to Abertay football after tragic loss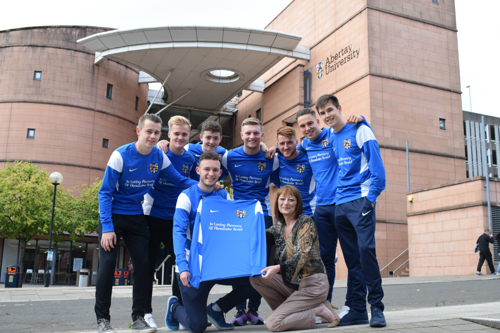 Abertay University's football captain has paid tribute to the support of his teammates after he suddenly lost his dad to a massive brain bleed last year.
Adam Braid and his mum Linda Braid donated kit worth £1,000 to the University's football group as their own way of thanking the club for their friendship.
On October 2 last year, Adam's father Alex Braid died in hospital aged just 63 after suddenly collapsing at home in Dundee.
Adam, who plays junior football for Kirriemuir Thistle, had special bond with his father, who used to take him to Dundee United games as a teenager and drove him to Glasgow and back three times a week when he was training with Rangers as a youngster.
The 22-year-old former Morgan Academy pupil said his teammates at Abertay had helped him get through tough times.
He added: "It's just wee things like chilling with my pals, having a chat with them or going on nights out – that's what I've needed and that's why my mum and I were so keen to give back.
"It's been hard. If I ever had a dilemma, or anything to do with my football, I would go and see my dad.
"This season I wasn't sure which team I would sign for and I didn't really know what to do, because when it came to football my dad just understood it all. I've found it hard not to have him as my guidance anymore.
"Now I get less emotional because I've learned to gauge it. But the hurt and even the good memories float back. There's just days when you want to chat with him for five minutes."
Adam is in the final year of his Sports Development and Coaching degree at Abertay and came to the University as a direct entrant from Dundee and Angus College.
Linda, 58, who works part-time in a doctor's surgery, said the football team had been a huge support for the family.
"I couldn't have asked for more from them – they are great guys," she said.
"Our lives just changed forever. It's been a rollercoaster and we've had good and bad days, but it has hit Adam more with the football because that was their bond."
Linda has hosted the entire 30-strong football group at her house for after-match drinks and was keen to find a way of thanking them.
She said Alec - who worked as a lighting design engineer including major projects such as the Tyne Bridge, Forth Road Bridge and Hampden stadium - would have been "buzzing" about the kit donation.
Adam designed the graphics for the match day tracksuits, which bear the text, 'In loving memory of Alexander Braid.'