Expert panel finale for 20 Years of Games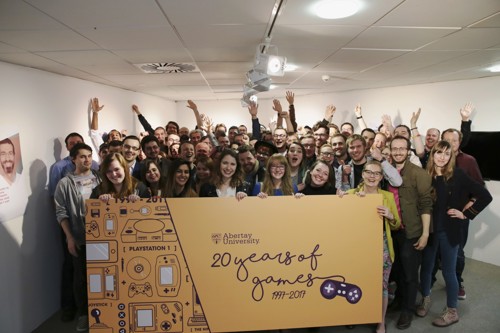 Top names from the UK games industry will chart the future of the sector in a select discussion panel marking the finale to Abertay University's 20 Years of Games celebrations.
An array of industry professionals will come to Dundee for the Saturday November 25 event, including Grand Theft Auto creator Dave Jones, David Braben OBE of Frontier Developments, Dr Jo Twist OBE of industry body UKIE, Jude Ower MBE of Playmob, games journalist Will Freeman and Abertay computer arts lecturer Lynn Parker.
It is 20 years since Abertay became first university in the world to offer degrees in computer games and the finale event, 'Next Level - A Conversation on the Future of Games,' marks the culmination of a packed year-long programme.
Around 300 people are expected to attend Abertay's main lecture theatre for the free evening, with a drinks reception sponsored by Dundee-based business and financial services firm Henderson Loggie.
Audience members will have the opportunity to put questions to the panel in a lively and entertaining format and the night will be streamed live on the Abertay University Facebook page.
A special 20 Years of Games VIP dinner for invited guests will follow the panel, followed by a DJ set running until midnight.
Professor Gregor White, Head of School of Arts, Media and Computer Games, at Abertay, said: "It is fantastic to have so many great speakers lined-up for the panel and I'm sure there will be plenty of interesting discussion and debate to be had.
"The selection of events marking 20 Years of Games has been excellent and there is no more fitting way to draw the year to a close than hearing from some of the University's finest graduates and friends."
Abertay is the top European university for undergraduate computer games courses and in the world top ten for postgraduate courses, according to the prestigious Princeton Review.
The announcement of the finale comes ahead of another major event on Sunday when the winners of Abertay's inaugural Dare Academy games design competition will be announced.
Six student teams are currently at EGX in Birmingham having designed, honed and polished their games since the start of the year.
The top three teams will win fully funded work placements in the US, China and India.
For more information on studying games at Abertay visit https://www.abertay.ac.uk/discover/academic-schools/arts-media-computer-games/