Ethical Hackers host Securi-Tay 2017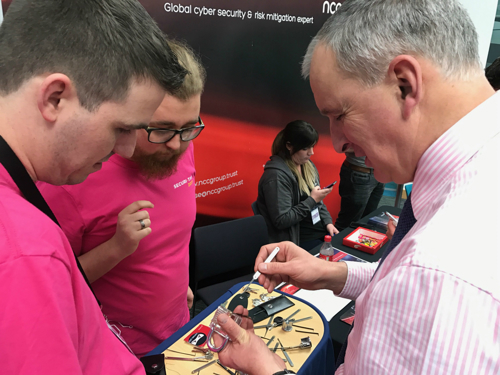 Abertay University hosted more than 350 cyber security students and industry professionals from across Europe at the major Securi-Tay conference.
The next generation of UK ethical hackers heard from cyber security experts at the sixth annual event which has grown substantially since its first year when between 20 and 30 delegates attended.
The conference comes as Abertay contributes to submissions for a proposed cyber security hub for Dundee as part of the Tay Cities Deal project.
Former Abertay student Gavin Holt, Senior Security Consultant at Manchester-based NCC Group - a major Abertay graduate employer - acted as keynote speaker for the event.
The former Abertay Ethical Hacking Society VP said, 'It's fantastic to see how the conference has grown over the years and to see the high calibre of companies that it now attracts.
'This event means Abertay students have a world-class conference on their doorstep and it's a great opportunity for them to meet key players in the industry.'
Abertay Principal Nigel Seaton said, 'Cyber security is an increasingly important issue and it's good to see another successful event at what is the UK's only student-run conference of its type.'
William Goard, Abertay Ethical Hacking Society President said, 'The world of online security is growing and Ethical Hacking is a subject that will be directly linked to employment opportunities after graduation.
'As I always say to students, the course is good fun, interesting, a subject area that is always changing and you are likely to get a job at the end of it.'
The conference featured talks and workshops from respected speakers as well as students from the Abertay Ethical Hacking Society.
Topics included malware, ransomware and attack detection as well as discussion around the cracking of mobile apps and messenger services.
Sponsors included MWR, NCC Group, SecureWorks, BT, CompTIA, ECS, Pentest, Synopsys, BSides Edinburgh, NCR and Abertay University.
A mass delegation from Leeds University attended, keeping up strong links forged between the two institutions.
The conference is aimed at anyone with an interest in hacking and information security and high level computing expertise is not required.
Abertay was the first university in the UK to offer courses in Ethical Hacking.