Eilidh scoops award for PTSD game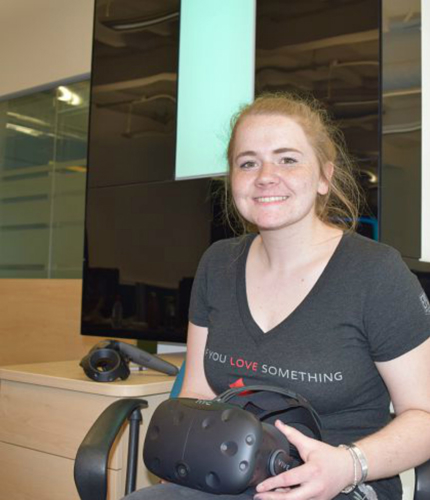 An Abertay University student received a cutting edge virtual reality games design kit after scooping an industry prize.
Eilidh Macleod received an HTC Vive after her project, Recover, won the Totally Epic Prize awarded by Unreal Engine and Epic Games.
The prize was one of a raft of industry awards handed to students from Abertay's School of Design and Informatics as the academic year draws to a close.
Fourth year student Eilidh, whose game is designed for people with PTSD, said she was delighted to receive the honour.
She added: "The prize was for the project that used the game engine to maximum effect, exploring VR and using it to build the environment.
"Unreal Engine 4 definitely helped me a lot in the design of the game and has helped shape who I am as a designer.
"The prize is incredible and I never thought I would get it. I'm going to continue developing my project and I will explore Recover using this kit."
Jess Hider of Epic Games selected Eilidh's project, saying it had a "great focus" and was "well executed".
For more information on games courses at Abertay visit https://www.abertay.ac.uk/discover/academic-schools/arts-media-computer-games/