Digital dress student hails Graduate Show
‌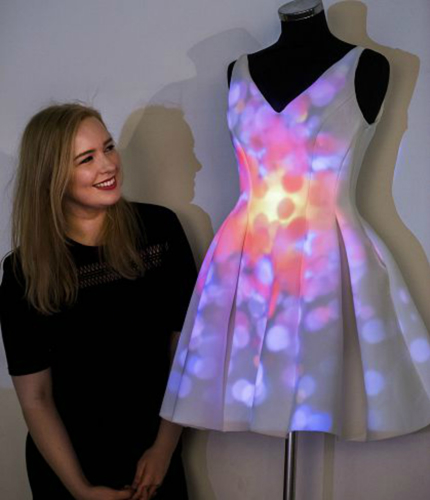 This time last year, Abertay graduate, Ilona Gatherer was getting ready to present her honours project at the Abertay Digital Graduate Show.
Her work brought to life a plain white dress through projection mapping, the same technique that animates some of the world's most famous buildings at New Year's Eve celebrations.
The mesmerising final projection video turned the basic outfit into the ultimate party dress that changed colour and design to the beat of Oh Wonder's Midnight moon. 
"The freedom within the degree allowed me to experiment and work on a project completely out of my comfort zone and to create a really unique final piece of work," Ilona said.
"The lecturers greatly encouraged me to work with emerging media and to push me even further to stand out with my project."
Translating her digital work to a physical environment took her a lot of planning and alterations, which paid off with her winning the Hannah Maclure Centre Award for Best Creative Installation.
Her advice to the students taking part in this year's Abertay Digital Graduate Show would be to talk to as many people as they can. "You never know who you could be speaking to, what insight they could have or what it could lead to.
"It also helps you to practice describing and discussing your project and design style for later job interviews."
The 24-year-old now works at Conde Nast publication and society magazine, Tatler as a Multimedia Assistant. In her role, she designs graphics, animations, motion graphics, photography and videos, along with co-ordinating video shoots and picture research for the Tatler social media and website.
"It's a really fun and diverse role, I have a lot of freedom to try new styles and time to focus on creating exciting work."
Her lasting impression of Dundee is its emphasis on design. "It appreciates the design community. There is so much encouragement for artists and their work.
"It was a really exciting place to study as a designer."
The Abertay Digital Graduate Show runs from the 5-9 May featuring the final year work of more than 150 students in the School of Design and Informatics.