Dare Academy winners hail "incredible" contest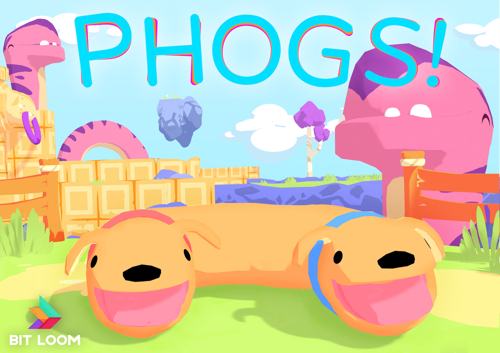 A double-ended dog puzzler has been crowned champion of Abertay University's inaugural Dare Academy games design competition.
The family friendly PHOGS! from Abertay student team Bit Loom was unveiled as the winner of the hotly-contested battle during a special ceremony at EGX festival in Birmingham on Sunday September 24.
A prize of a fully paid trip to Indiecade in Los Angeles now awaits winning team members Douglas Flinders, Henry Pullan and James Wood, who have been working on the unique game since March.
The two-player PC game unusually uses one controller to move a double-ended dog, making for a collaborative experience that anyone can enjoy.
Dare judges included Colin Macdonald (All4Games), Luke Savage (Sony Interactive Entertainment) Louise O'Connor (Rare) Peter Campbell (Rare) and Neil Holmes (Xbox)
In their comments, judges called PHOGS! "fun and cute," as well as "very polished" and with "appealing art style and audio."
In a joint statement the Bit Loom team said: "We are amazed to have won Dare Academy 2017. The competition was an incredible experience for all three of us at Bit Loom. We received invaluable advice from mentors and speakers some of whom we have built strong relationships with since.
"Showing PHOGS! at EGX has allowed us to begin pitching the game to publishers and building our reputation as a studio. Going to Indiecade to exhibit has been a dream of ours and now it is a reality!"
The two runners-up were 8Bit10 with their game King of the Castle, and Wee Door with Oil.
8Bit10 will enjoy a paid trip to China where they will meet some of the world's largest games companies, while Wee Door earned an industry experience in India.
Although the remaining three Dare entrants – Pocket Sized Hands, Hypnotic Pigeon and Lavalamp Games – narrowly missed out on trips abroad, all six teams spent a full four days at EGX, gaining invaluable exposure to industry.
Dare Academy was sponsored by legal services firm Lindsays, who will provide the three winning teams with a package of start-up related information and business support.
Speaking after the announcement was made on the UKIE Careers stage, Head of Abertay's Division of Games and Arts, Dayna Galloway said PHOGS! was a worthy winner.
He added: "Regardless of the outcome of the competition, all six of these teams have produced innovative, fun, technically brilliant and sometimes off-the-wall games.
"To show such outstanding creative talent and produce games of this technical quality over an intensive and compact period proves they can cope with the pressure demands of an industry environment."
To find out more about computer games courses at Abertay visit https://www.abertay.ac.uk/discover/academic-schools/arts-media-computer-games/.