Dare Academy finalists revealed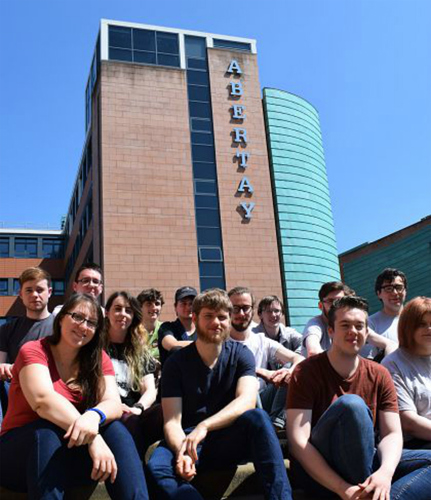 Six talented student teams are today revealed as finalists in Abertay University's new Dare Academy computer games design competition.
Games projects ranging from serious themes such as dementia to "frenetic" shooters were selected for the final phase of the contest, which offers a prize of major industry exposure and international work placements.
Earlier this month, a panel of games industry experts hosted a judging day at the University in Dundee, where students presented professional pitches stating their case for inclusion.
The final teams include Wee Door with their game, OIL, Lavalamp Games with I am Here, Pocket Sized Hands with Honeypot Espionage, 8Bit10 with King of the Castle, Bit Loom with PHOGS! and Hypnotic Pigeon with Shade.
Leo Reid of 8Bit10 said: "We are developing a multiplayer game in which you control toys in a bedroom scenario. The main reason we entered Dare was that it is a fantastic opportunity to receive guidance and mentorship from industry professionals as well as the academic staff here at Abertay.
Ian Gibb from Lava Lamp Games said: "Our game is called I am Here and it is designed to raise awareness of dementia. We are using Dare to further develop our game and polish it into a more in-depth experience."
Judge Dave Bradley of industry website PocketGamer.biz said he was already itching to get his hands on some of the games.
He added: "I was amazed by the variety of projects we saw this year: from adventures tackling serious topics like dementia or the Great War, all the way to surreal puzzles games and frenetic multiplayer shooters.
"The six finalists not only demonstrated a ton of innovation in their game ideas, but also pitched them professionally to the judges and were able to show team work and forward planning.
"Everybody who took part should feel very proud."
Judge Kirsty Rigden, Development Director at FuturLab said: "I was delighted by the variety of subject matter tackled in the game designs, with some interesting new mechanics I'd not seen before.
"The confidence and professionalism of some of the teams really shone through.
"Definitely some bright stars to watch."
Judge Melissa Knox of Blazing Griffin said: "The Dare Academy projects are of high quality and the six finalists showed professionalism, hard work, and a load of creativity, which is what pushed their applications through to the next phase.
"I was impressed by the diversity of the games and the committed attitude that the entrants showed in building up their prototypes and pitching them to the panel."
Dare Academy is in its inaugural year and comes as Abertay celebrates 20 years since becoming the first university in the world to offer computer games degrees.
Having made it through round one, the six successful teams now enter a hot housing period from July 10 to August 4, with a working budget of £1,000 to develop their prototypes further with advice and mentoring from industry experts.
After that, judges will select the three top teams to showcase their finished products at the UK's biggest games conference, EGX, which attracts more than 75,000 people over four days to the NEC in Birmingham every year.
Those teams will also scoop trip of a lifetime placements to international games studios in China, India and the US.
The overall winner of Dare Academy, which is open only to Abertay students, will be unveiled at the end of EGX on September 24.
For more information visit dareacademy.co.uk or search Dare Academy on Facebook or Twitter.