Class of 2017 graduate in style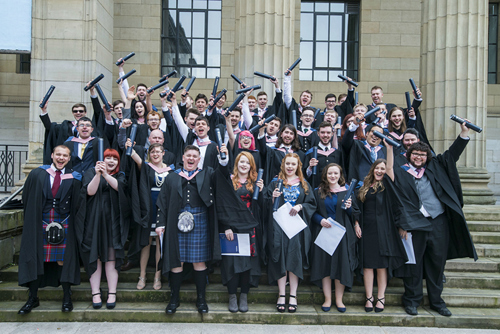 Expertise and innovation in fields as diverse as cybersecurity, food science, marketing and criminology is being celebrated today as Abertay University's class of 2017 is honoured in Dundee.
Around 800 students from a broad spectrum of backgrounds will climb the steps of the Caird Hall to receive their degrees, watched by family and friends.
Students from Dundee Business School and the School of Arts, Media and Computer Games join others from the schools of Science, Engineering and Technology and Social and Health Sciences.
From mature students who joined through the AHEAD programme, to school leavers who completed a full four years and those who came to the University from college courses, all sides of the Abertay family are represented.
It is a special year for Abertay's computer games graduates, coming at the University celebrates 20 years since becoming first in the world to offer degrees in the discipline.
Speaking this morning Principal and Vice-Chancellor Professor Nigel Seaton urged all of the new graduates to grasp the opportunities lying before them.
He told them: "Abertay is a learning community, and you have all contributed to the learning of others, and to the richness of their lives. 
"The challenges you have faced have been personal challenges, and your achievements are your own.
"But university life is also about friendship, and comradeship, and about being part of that community." 
Special tribute was paid to this year's honorary graduates, Dundee entrepreneur Chris van der Kuyl, Emeritus Professor of Mental Health David Alexander and Professor of Nursing Laura Serrant.
Giving his morning oration, Head of Arts, Media and Computer Games, Professor Gregor White spoke of Mr van der Kuyl's impact on the games industry and on Dundee.
He said: "Chris is a serial entrepreneur, investor, property developer and passionate Dundonian.
"His success means he's been able to contribute to Dundee's recent transformation, proving an influential figure in attracting the V&A to Dundee and the UNESCO City of Design Award in 2014.
"Thanks to Chris' generosity and enthusiasm future generations will benefit from opportunities to follow in his footsteps and create more success for the city.
" Speaking of Prof Alexander's achievements, Head of Science, Engineering and Technology, Prof Carl Schaschke said: "David is an outstanding academic and clinician, who pioneered the way trauma is managed in this country.
"He is in constant demand for his expertise, and has been involved in numerous major traumatic incidents and conflict zones around the world."
Ahead of delivering the oration for Prof Serrant this afternoon, Head of Social and Health Sciences Andrea Cameron said the graduate's work in recognising culturally different patterns of engagement with the healthcare system had resulted in collaboration with research and policy developers across the globe.
She added: "Laura is one of only six black nursing professors in the UK and acknowledges that there are too few minority voices in nursing leadership, a cause she has championed as she has sought to empower others with her 'lift as you climb' motto."