Abertay graduate makes Forbes "30 under 30" list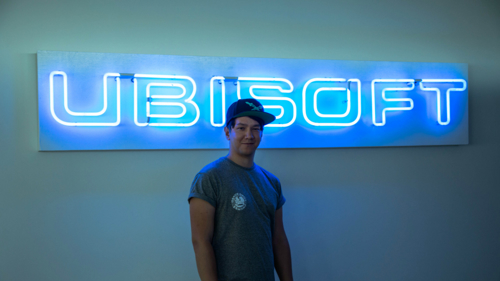 An Abertay University graduate who went on to become one of the world's premier games designers has hailed the impact of the Dare to be Digital competition on his career after he was included in the prestigious Forbes 30 under 30 list.
Liam Wong from Edinburgh graduated with a BA Computer Arts from Abertay in 2010 but said he hadn't considered a career in games until he was immersed in the annual Dare project in his third year.
The Graphic Design Director was picked for the new Forbes 30 under 30 list, which recognises the brightest young international entrepreneurs, breakout talents and change makers across 20 diverse sectors such as arts, sports, finance, tech, education, media and energy.
Recognised for his work at industry giant Ubisoft, where he directed the visual look of hit game Far Cry 4, Liam described the accolade as a 'real honour'.
He added, 'I guess the most noticeable impact of the Forbes list is the exposure but more importantly to be able to inspire other artists to keep working hard and to keep pursuing their careers.
'I have been at Ubisoft a little over three years now and my job is to define, design and direct the visual identities for AAA games.
'I took a year out after high school as I was uncertain as to what type of career I wanted to pursue.
'My brother went to Abertay and when I saw the Computer Arts course I knew it was the one for me.
'But it wasn't until I took part in Dare to be Digital in third year that I had considered a career in games.
'My advice to students is: figure out what you are passionate about and then spend every day working on improving your craft.'
Liam now works at the Ubisoft offices in Montreal, the studio responsible for games like Assassin's Creed, Watch Dogs, Child of Light and Rainbow Six.
He said his training at Abertay – with Creative Skillset accreditation and a Centre for Excellence for games courses – had provided the ideal preparation for such a high level role.
'My experience at university was really positive,' Liam said.
'The course gave me insight into the various types of art, from which I was able to identify what I was passionate about.
'I would definitely recommend the course and university - spending four years there really helped me grow as an artist.
'I often find myself returning to Dundee to check out the upcoming talent.
'I came back last year to speak at Abertay and was really surprised by how much the city had changed - it's a great place to be, particularly if you are a games developer.'
Liam took up photography in the last year and his pictures have already been featured by Adobe, Business Insider, Canon, CNN, Saatchi and Smithsonian.
For more information and pictures visit liamwong.com