Abertay academic elected to Royal Society of Arts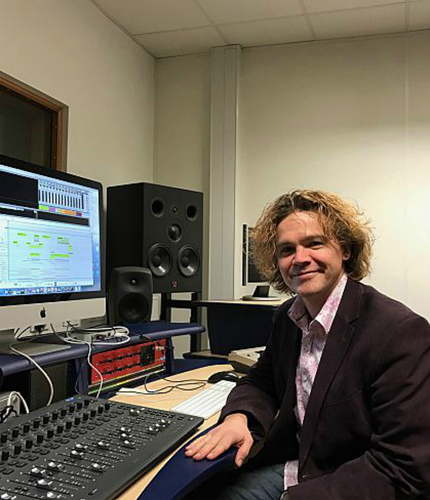 An Abertay University academic has been elected a Fellow of the Royal Society of Arts, joining the likes of Professor Stephen Hawking and Charles Dickens.
Dr Kenny McAlpine becomes a member of the prestigious 262-year-old institution in recognition of his work, research and outreach projects in computer games music.
The society is committed to finding practical solutions to social challenges and was founded in 1754 by William Shipley on the belief that the creativity of ideas can enrich social progress.
Other notable current members include inventor of the internet Sir Tim Berners-Lee and broadcaster Adam Hart-Davis.
Historical members include Karl Marx, Peter Ustinov, Benjamin Franklin and Charles Dickens.
'It's a terrific honour to become a small part of such a prestigious and historical institution, but it's also more than a little daunting: the RSA roll-call includes some very notable figures and some truly world-changing achievements,' Dr Mc Alpine said.
'Like many who enter public service, I became an academic because I wanted to make a positive difference, and so it's wonderful to think that I might be pulling in the right direction.'
Dr McAlpine is preparing to publish a new book, Bits n Pieces: A history of chip tunes, in spring or early summer.
The book charts the rise of the 'chip tune' sound from the underground game cracking scene of the 1980s and 1990s through to its use in big budget movies today.
It will be the first scholarly book on the subject.
'It all stems from those classic video games,' Dr McAlpine said.
'The guys back then started using really sophisticated programming tricks, which gave rise to the peculiar sound of 8-bit music, and that came to typify that period of gaming from 1984 to 1989.
'Kids started cracking commercial software and leaving little digital calling cards to identify their work and they would stick little music tracks on there as well. Over time, those tracks got more elaborate and the style evolved.
'I've always been very conscious of the fact video games have only very recently been accepted as a legitimate form of cultural expression and a legitimate industry.
'I'm also very conscious that although that's true, it applies even further to video game music, which still isn't really seen as proper medium in the eyes of musicologists and cultural theorists.
'So writing the book is partly about telling that story but also linking it in with a wider musical timeline to lift that status.'