Photos from meetings
Detention Basin - In roundabout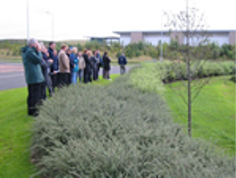 Coventry Conference at DEX in association with SUDSnet 6-7th September 2004.

This year's Coventry Standing Conference was held on 7th September at DEX (Dunfermline Eastern Extension), near Edinburgh in Scotland. The conference was a great success with a broad range of delegates and speakers.
Ornamental Pond - Hopwood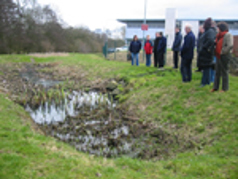 SUDSnet field day to SUDS installations at Hopwood Services & two Worchester Schools 18th February 2008.  
SUDSnet members had an interesting and informative day delegates at amenity building pond out in Worcestershire. Bob Bray's gave a comprehensive overview of the sites and we got see the systems 'in action'.