Dare Academy 'Class of 2019' revealed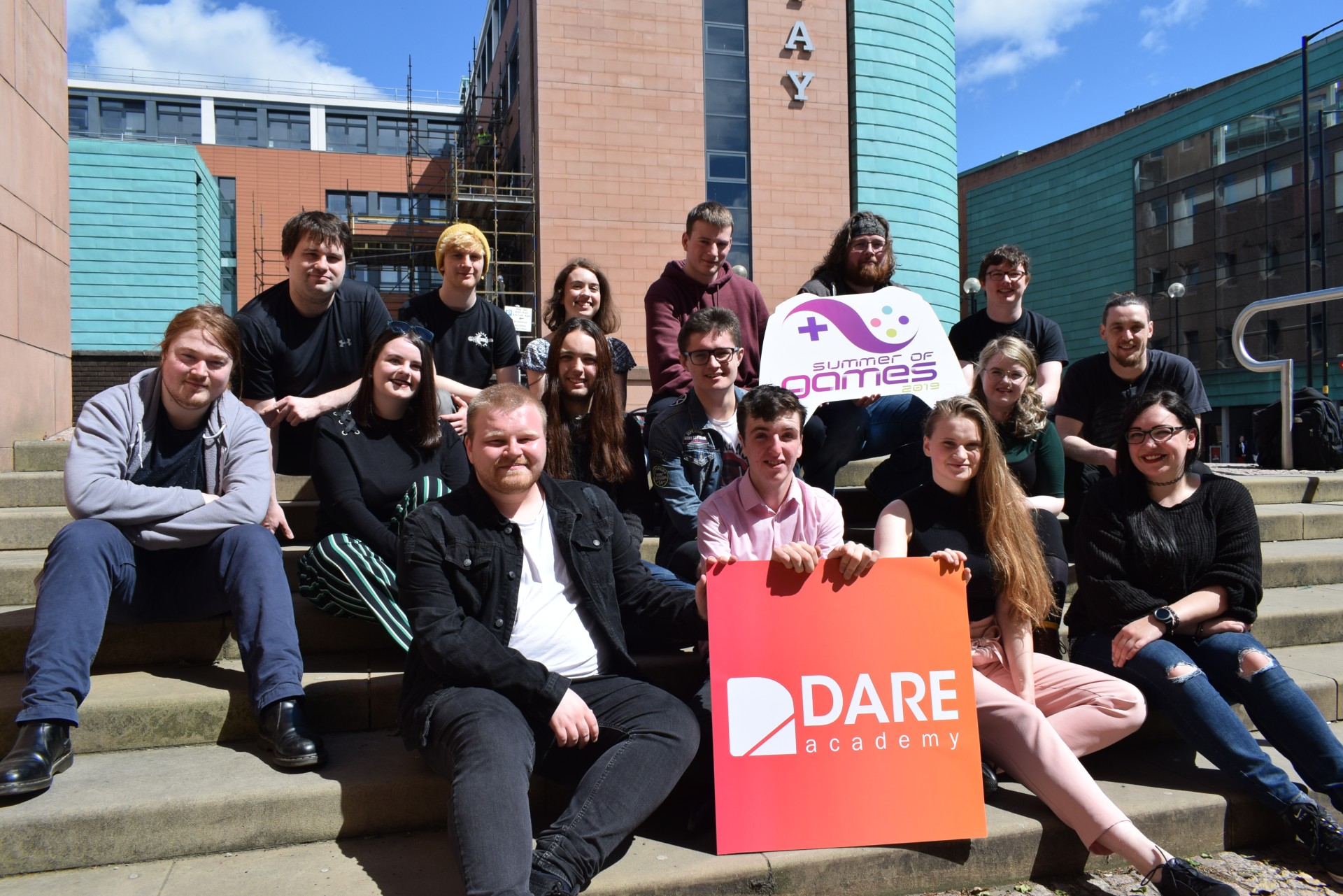 The finalists of Abertay University's Dare Academy videogames design competition have been revealed as Dundee's Summer of Games gathers pace.
Six innovative student teams have made it through to the contest's summer hot-housing phase, which will see them develop new games while benefiting from mentoring and guidance from top industry professionals.
Finalists won through a concept pitching process in front of a panel of judges, including Executive Vice-President of Ninja Kiwi Europe, David Hamilton, Senior Game Designer at Outplay Entertainment Ltd, Keeley Bunting, and Abertay games academics Dr Lynn Love and Dr Paul Robertson.
Throughout July, the teams will now develop, hone and polish their games at Abertay, before taking finished prototypes to the UK's biggest videogames expo, EGX, held at London's ExCel Arena from October 17 to 20.
During EGX the students will network with industry professionals from all over the world and showcase their games from branded stands, with the winning team - announced during a special Dare Academy awards ceremony – receiving a cash prize of £5,000.
David Hamilton said: "Ninja Kiwi Europe has longstanding links with Dare and we are delighted to once again be involved in a project that promotes the work of up-and-coming talent.
"It is absolutely vital that the UK games industry has a steady stream of highly-skilled graduates coming through year after year, and competitions like Dare Academy are particularly important because they give students a taste of the kind of pressures they might face in an industry environment."
Keeley Bunting said: "The quality of the submissions and pitches was incredible this year and it was a real challenge to narrow the field down to six finalists.
"Dare has an impressive track record of producing commercially and critically successful games and I have no doubt that the Class of 2019 will live up to this reputation."
Previous Dare Academy teams have gone on to form real-world start-ups, with some commercially releasing their games or signing deals with major publishers.
The competition forms part of this year's Summer of Games in Dundee, which includes V&A Dundee's exhibition Videogames: Design/Play/Disrupt, the return of the UK Games Fund Awards and, a city-wide digital treasure trail led by Abertay academics and a talk from games composer Ged Grimes at Creative Dundee's biggest ever Pecha Kucha Night.
Dare Academy finalists:
• Jamhead Games with Sundown, an adventure game involving visual clues set within three expansive levels
• Inner Circle Games with Spellcasters, a 2D fantasy platformer with a unique rhythm-based magic combat system
• Penrose Games with Station, a mystery puzzle game set on an abandoned space station
• North Sea Games with Aurora, a game where the player explores a frozen ruin shrouded in mystery
• Team Ghost Camp with Tales of Treachery, a four player party game with an early prototype version narrated by author of American Gods Neil Gaiman
• Blindside with King of the Drills, a turn-based tactical VR game featuring clans of hyper-intelligent moles