Gaming concepts for low vision people explored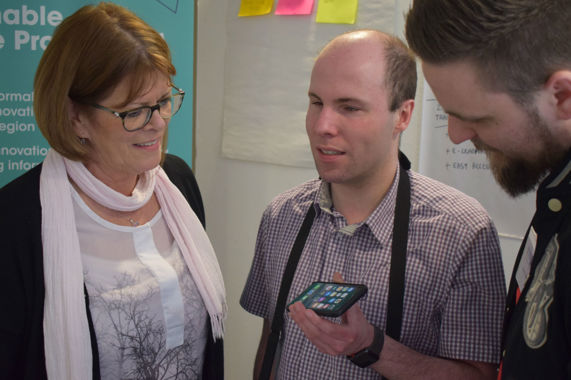 Europe's number one computer games university is collaborating with a Scottish network for the blind on a project aimed at enhancing quality of life for service users.
Students and staff from Abertay University in Dundee are working with service users and workers from Fife Society for the Blind to develop new ideas on how games for smartphone and tablet devices can be used to improve the lives of people with low vision.
The initiative is part of the In For Care North Sea Region Interregional Collaboration between Scotland, Scandinavia and the low-countries which leads on research to understand the role of formal and informal care givers.
Abertay is ranked best in Europe for computer games education by the Princeton Review and has already spawned a range of 'games for good' projects, including games to assist analysis of cancer cell behaviour, rape crisis awareness and police evidence gathering.
An Abertay team also developed a tablet app called Tapology, specifically designed for people with Age Related Macular Degeneration.
Following on from this work, an In For Care conference session was held at Abertay, during which students and service users discussed new ideas for games to engage those with low vision.
Delegates included students, academics, games developers and service end users, all of whom were working on a design challenge with an open creative brief to explore new ideas.
Dr Ken Scott-Brown, a senior lecturer in Psychology, and Dr Daniel Gilmour, a senior lecturer in Natural and Built Environment, are leading on the project with Fife Society for the Blind.
Ken said the resulting concepts would be taken forward to contribute to the wider In For Care collaboration.
He added: "We are delighted to be collaborating with Fife Society for the Blind on this important project which could have a real impact on the lives of low vision people, particularly the elderly.
"The birth of smartphone and tablet devices was a real game changer in how older people interact with technology and our games students are ideally placed to come up with ideas on how to best harness that technology in a user-friendly way."
Funded until 2020, In For Care aims to develop innovation in service delivery by optimising informal and formal care networks
The project is exploring new cooperative ways in which the market, the public and the civil sector can provide answers to the social demands and strengthen the informal networks through new technologies.