Elite Abertay athletes selected for international duty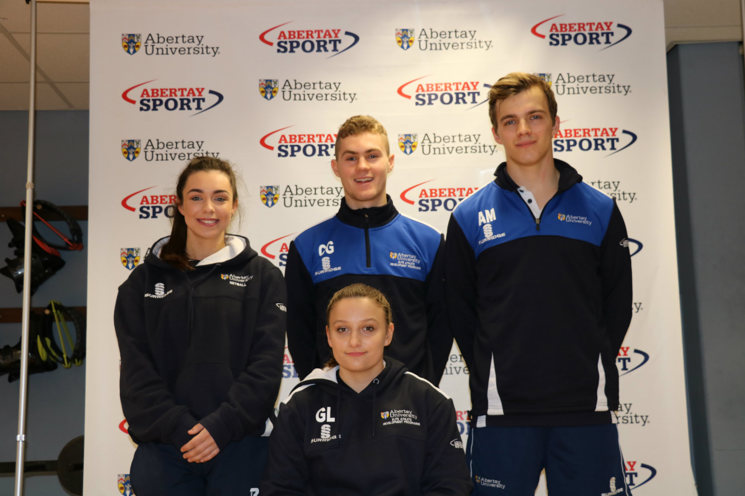 Five Abertay University students have been selected to compete at international level in hockey, netball and wheelchair rugby.
Supported by Abertay Sport, many of the students are members of the University's Elite Athlete Development Programme which exists to provide assistance in arranging academic flexibility as well as some financial support.
Currently in Spain as part of the Scotland Senior Men's Hockey Squad are first year Sport and Exercise student, Cameron Golden, and second year Sport and Management student, Aidan McQuade, who have risen through the ranks from the Under 21 squad.
Placed 23rd in the world, the squad will take on Spain, Ireland, Canada and the USA during the tournament in Malaga, which will not only prepare those selected for the upcoming Commonwealth Games but also give Cameron and Aidan their first full international caps at senior level. 
Also selected for international competition are fourth year Sport and Exercise students Erin Moore and Jaimie Cooper, who have been picked for the Scottish Universities netball squad.
The team was confirmed after a series of competitive trials and is now gearing up to challenge Ireland in Dublin on Saturday 27 and Sunday 28 January, with Jaimie as captain.
Erin said: "I'm really proud to be selected for the squad. The teams play at a really high level, which not only helps promote the Abertay team – who are currently top of the league - but also shows other students just what can be achieved when they go for it."
Another Abertay student enjoying success is Gemma Lumsdaine, a first-year Sport and Exercise student, who has been named by Great Britain Wheelchair Rugby as one of 12 players selected for the Wheelchair Rugby Talent Development Squad.
The group trains and develops players for consideration in the Elite Squad, who will represent Team GB at the Paralympics.
As part of her placement, Gemma, the only Scot selected, must attend monthly training camps with the team in Sheffield, along with evening sessions and international games; a regime that will require immense focus and commitment while juggling her studies and training.
She said: "It's an incredible honour to be selected and I'm really keen to get started."
For more information on studying sport at Abertay visit https://www.abertay.ac.uk/research/our-research/division-of-sport-and-exercise-sciences